in Crocus city hall, addressed the group INFINITE and NCT127 and actress Ha Ji Won
Notice
: Undefined index: wrap_width in
/myarea/web/mesmika/public_html/templates/boxed/content/default_item.tpl.php
on line
49
>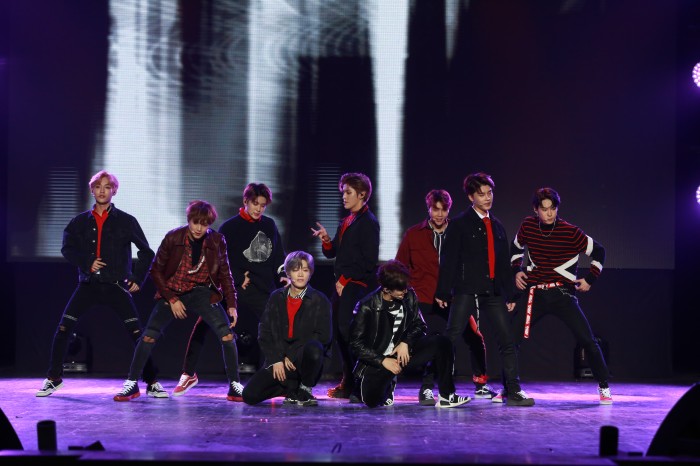 Notice
: Undefined index: wrap_width in
/myarea/web/mesmika/public_html/templates/boxed/content/default_item.tpl.php
on line
49
>
Photo source:
JG Agency
14 and 15 may at the Crocus Expo held a large-scale exhibition "KBEE is Korea Brand & Entertainment Expo 2018 Moscow". The exhibition has been held 13 times, the first time it opened in Bangkok in 2013, and now finally came to Russia. In all there are 5 lines of products: K-Beauty, K-Fashion, K-Medicine, K-Service and K-merchandising.
The exhibition, in addition to exploring Korean brands and buy the vending of goods, guests could test the latest virtual reality technology, listen to master classes in makeup and skin care from leading experts in the beauty industry, visit a medical forum and to get to the concert k-pop stars and musical groups INFINITE and NCT127 and actress Ha Ji Won.
14 may in Crocus city Hall hosted the opening ceremony, which was attended by official representatives of the Republic of Korea and the Embassy of Korea in Russia. Immediately after the official part began a concert, which fans and fans of Korean culture were looking forward to a few months.
All the seats in the great hall Crocus city Hall which holds up to 7,500 people, were busy with the fans that actively supported the artists, sang songs and chanted words of gratitude in Korean.
As recognized by the members of the group NCT127, the love and support of fans charged their incredible energy, and the concert passed in one breath.
During the concert, came on stage also actress Ha Ji Won, she communicated with the audience and answered the most interesting questions and even made a little contest, the lottery. From the huge drum she pulled out the note with the numbers of seats in the hall, and gave the lucky perfume with her favorite scent.
15 held a press conference of a group of NCT127, during which the participants answered questions from the press. In particular, the guys told me that have managed to walk in Moscow and see the main sights, try local cuisine, which they loved. They also noted that before his departure, would like to have time to visit the Moscow zoo and Gorky Park.
But the enthusiasm was displeased with the statement that they plan to return to Russia with a full tour.
As the group INFINITE and NCT127 and actress Ha Ji Won were ambassadors of KBEE 2018 exhibition, the artists noted that this event gave them the opportunity not only to come to Russia, but to help children's Fund "Creation" - all proceeds from the sale of autographed t-shirts will be transferred to the Fund.
After the press conference was held two autograph sessions, the band INFINITE and actress Ha Ji Won. A total of 200 lucky winners received the coveted autographs of stars and a photo for memory.