Tiger Cave EP present at the club 16 TONS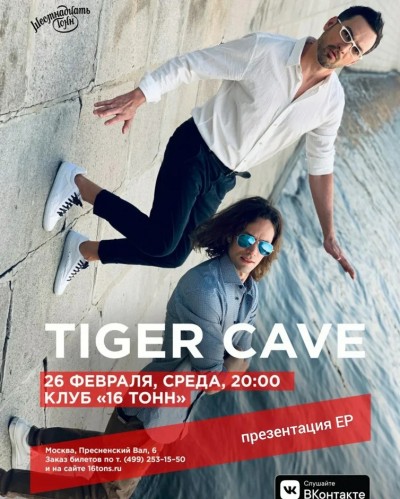 International English speaking project Cyril of Furmanchuk and Nicholas Sarabyanova Tiger Cave presents his second album of Cemetery of Dreams.
Mini-album contains six songs, all new to the group sound.
TigerCave has played on the same stage with international musicians Eros Ramazzotti, Gorillaz, Kaleo, MassiveAttcack and DavidGuetta. And on June 15, 2019 TigerCave appeared as special guests on the legendary show band MUSE, and many teams have chosen them himself MatthewBellamy.
TigerCaveизвестны not only rare on the Russian stage style of indie rock, but its unique execution. The group from most of the other performers are distinguished by the use of live-looping is a musical technique that allows you to create loops directly during the performance. Thanks to this song TigerCave always sound like them takes a whole orchestra. On the new album, this impression is only strengthened by the addition of unusual for a group of electronic sound.
Nikolay Sarabianov: "On this EP are songs that were born in the last few years. The new sound is a result of the fact that we realized that our music sounds good in stadiums. People love to dance, so we tried to make our music a little more dance".
Kirill Formanchuk: "In this EP we have a lot of electronics and even has a track with elements of hip-hop. This came from the fact that we play together internally and we always want to add something, to challenge themselves, so we use loopers and other equipment. And during the recording we were a bit "carried away". In the result, we have had almost electronic-rock dance EP".
This time a mini-album in the first place, attracts the attention of the various topics raised in the songs. It is an endless pursuit of a dream and the frequent inability to bring to life, in search of its own identity and difficulties in recognizing signs that the universe throws us. And, of course, love.
Cemeteryofdreams is a nice statement on the ability or inability of people not to give up and stay at the cemetery of your desires.