Time machine will close for three weekends of Live&Drive!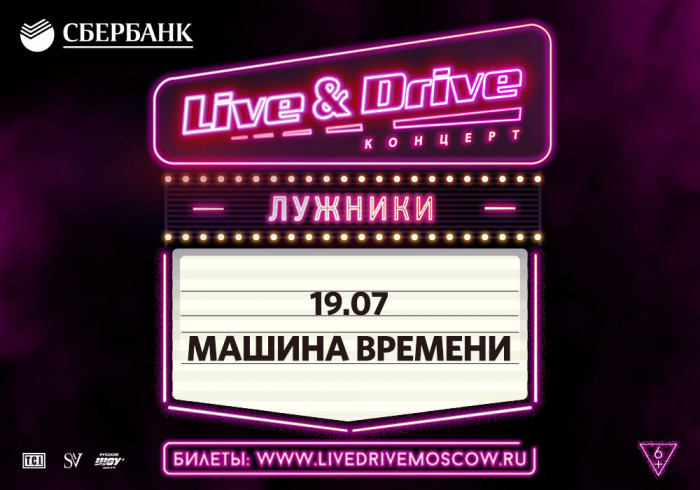 Venue:
Luzhniki Stadium, Moscow
LIVE & DRIVE is a series of summer events, during which live performances will be held on stage before the audience inside their cars that will allow to comply with the restrictions and social distance between people. The sound will be broadcast through the FM receivers.
A series of events LIVE & DRIVE - a great alternative to all the online shows, because nothing can replace true and vivid impressions of live performance artists. LIVE & DRIVE will be a large-scale city event where you can come with your family or friends. On the territory of the Luzhniki stadium, the audience will be able to order food and drinks using a special application.
The entire line-up includes the names of Russian musicians that will help to support artists whose scheduled concerts also were cancelled or postponed to a later date. On the summer stage will: Leonid Agutin – July 10, Splin – July 11, and many others. Third weekend Live&Drive will open Diana. Night Snipers - July 17, July 18 it will continue to Basta, and on July 19 will be closed "Time Machine"!
Once they prove that rock can sound and on Russian language. As the years passed, and those who went on the underground sessions ' 70s, there were children, and then grandchildren, and they all grew up on "the Time Machine". Songs of this team became part of our DNA, and no man in the world, speaking in Russian, who couldn't sing from beginning to end is something of a "Machine". In may this year, the oldest and most famous country group celebrated its 51st birthday. Noted, as we all are, in isolation, but three months of the forced pause passed for "drivers" is not in vain. Right now they record their new album, and those who come to "Luzhniki", probably hear some of the premiere!
And most importantly — you will see on stage Kirill Ipatov (percussion), Alexander Witkowskiego (trumpet, backing vocals, tambourine), Alexander Levochkin (keyboards, backing vocals), Igor Khomich (guitar) and veterans group — Valeriy Efremov (drums), Alexander kutikova (bass, vocals) and Andrei Makarevich (vocals, guitar, keyboards). And sing with them the chorus of "Turn", "Jump", "Puppets", "For those who in the sea" "One day the world will SAG under us", "Candle" and other classics from the early ' 70s to the present day.
So come to "Luzhniki" on July 19.
Let
He'll make a good way!
To purchase tickets, see the schedule of artists and more information about the series of events you can on the website www.livedrivemoscow.ru.
Hurry – the number of spaces for each day of events is limited.
The General sponsor is Live & Drive in favor of Sberbank. Burst into summer with Live & Drive and Sberbank!
Search for all the latest news about the project and share your photos from events #livedrivemoscow