Different people - concert in Belgorod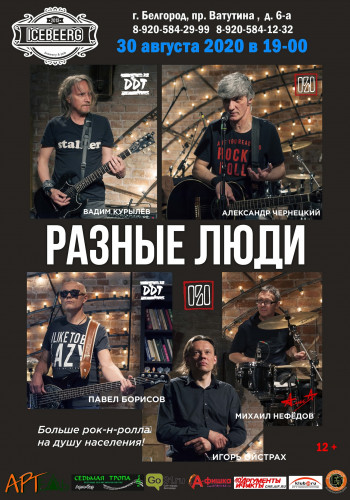 Venue:
All kinds of People — the Soviet, Ukrainian and Russian rock band.
All kinds of People — the Soviet, Ukrainian and Russian rock band. Leader-vocalist and author of most songs is Alexander Chernetsky . The band was formed in Kharkov in 1980-ies as "GPA" in 1989 renamed into "Different People". In 1999, Alexander Chernetsky moved to St. Petersburg, where the group was reconstituted in a new composition. In St. Petersburg the embodiment of "Different People" - a kind of "supergroup". In modern composed Vadim Kurylev (guitar, backing vocals, ex-"DDT"), Pavel Borisov (bass guitar, ex-MEGADETH), Michael Nefedov (drums, ex-"Alice"), Igor Oistrakh (harmonica).
Many Belgorod commemorative concert dedicated to the 25th anniversary of the platinum group in the composition, which took place on 21 September 2014 in the youth center, with the participation of Sergey Chigrakov ("Siskin"), who was a member of the group in 1989-1993, and then collaborated with the band during the recording of albums. This year special guests will be Yuri Chikovani and Pavel Pavlov.
Creativity "Different People" known to many for the past 30 years and deservedly is called a model of Russian rock: the heaviness of hard rock and straightforward rock ' n ' roll combined with a Russian song chant, in the texts of group leader Alexander Chernetsky high poetry coexists with strong language, love songs alternate with slogan-journalism.
The group "Different People" has released more than 30 CDs, 15 of them are Studio albums. Are the organizers of the charity festival and online auction "for Different People. Rock musicians help the children", which is attended by Boris Grebenshchikov, Yuri Shevchuk, Vladimir Shahrin, Vladimir Butusov, A. Makarevich, Sergei Galanin, Sergei Chigrakov, S. Surganova, E. Szklarska, A. Knyazev, Ilya Devil and many others...