The photo exhibition "Magic country" will be held in St. Petersburg from July 4 to September 2, 2018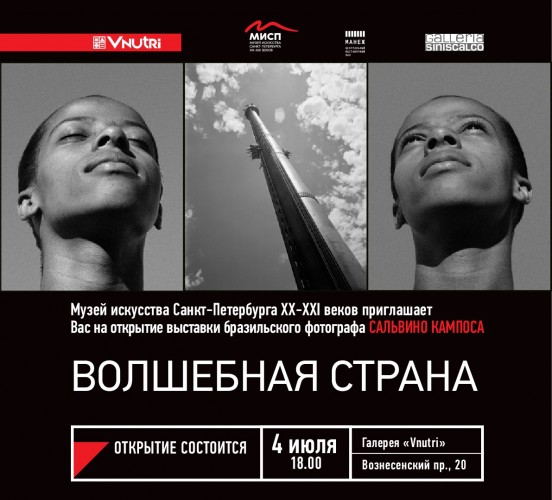 The timing of the festival:
04 - 22 July, 25 July - 02 September
The venue of the festival:
St. Petersburg, Griboyedov canal embankment, d. 103, art Museum of Saint-Petersburg of the XX-XXI centuries
A visa is required:
Russia (for Russian citizens is not required)
Dear friends! Iicp is a new project - a series of joint exhibitions with various art institutions of the city. The first will be the exhibition "Magic country", which will be held at two venues: 4 through July 22 at the gallery Inside and, from 25 July to 2 September - in the space of iicp. In the Appendix you will find an invitation to the opening. Looking forward to seeing you at the opening.
Original Brazilian photographer Sal'vino Campos lives and works between Naples and Rio de Janeiro. Social orientation can be traced in the themes of more than 20 projects of photographer, realised in museums and galleries in Italy, Brazil, England and the United States. New project Sal'vino Campos "Neverland", in which the photographer shows the lives of ordinary people through the peak emotional experience, is no exception.
Agreeing with the opinion of Henri Cartier-Bresson that photography is a "tool of understanding", in his project "Magic land" Campos seeks to demonstrate the human right to dream. Therefore, the object of attention of the photographer become amusement parks that the author was off traveling the world. No matter what part of the world the action takes place, rides with bizarre twists of roller coasters and carousels are always for the author a symbol of lightness of being, the world where life abounds, giving everyone the opportunity to experience new magical reality.
In it, Campos immerses his characters: young children and the elderly, young women and men of different nationalities and races. Their faces are always taken in close-up as close to the viewer. The contrast of black and white shading used by Campos, allows you to focus on facial expression, movement of the muscles of the persons portrayed. They reflect the whole range of feelings experienced by the person on the rides - the ecstasy of flight, the thrill of the travel in the imaginary space of dreams, the pleasure the dizzying descent and the joy of returning to earth. The artistic language of the Campos so active on effects that the viewer unwittingly becomes complicit in the emotional experiences of the characters.
The project Sal'vino Campos "Neverland", which includes 35 large format photographs, is on display in St. Petersburg for the first time. Full sensual expression images of the Brazilian author will certainly attract the attention of the Russian audience.
The exhibition opens on 4 July at 18.00 in the gallery Inside (Voznesensky prospect, 20)
The exhibition is organized with the support of Galleria Siniscalco (Naples, Italy).
Curator Afrodite Oikonomidou
Date of exhibiting:
4 - 22 July: the Gallery Inside, Voznesensky Prospekt, d. 20, +7 (981) 751-74-10
https://www.vnutri.gallery
July 25 – September 2: Art Museum of Saint-Petersburg of the XX-XXI centuries
nab. kanala Griboedova, d. 103, (812) 312-25-54, 314-98-94
http://www.mispxx-xxi.ru
News
No news to display