"Old New Rock "Wave" launches creative cluster under the open sky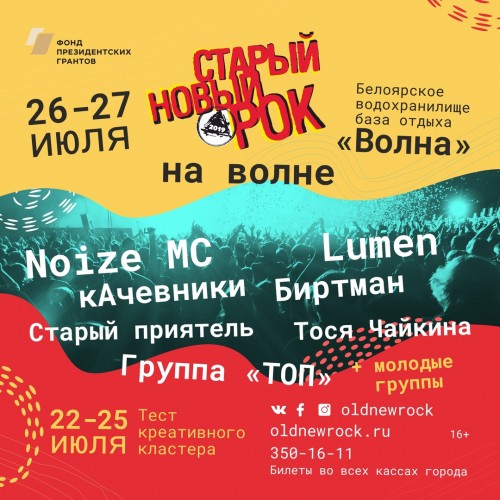 Photo source:
Press service
More than a festival: "Old New Rock "Wave" launches creative cluster under the open sky.
Open for applications in the fields of journalism, contemporary art, photography, theatre and cinema.
From 22 to 25 July before the summer version of the festival Old New Rock on the basis of the "Wave" passes the test of the creative cluster. Within four days of the talented journalists, photographers, artists, actors and industry representatives will create a creative space CHP "the Wave". Join directions a common theme – music.
The curators of the areas addressed by the professionals of the creative industries. Photographer Alexandri Osipov will be the mentor in the direction of the photo. Olga Baluk,editor of Yekaterinburg Znak.com editor UralMusicMagazineподелится knowledge and experience with participants in the direction of the journalist. Lilia M. Nemchenko, Director of the festival-workshop of film schools "Kinoproba", member of the Union of cinematographers of Russia under the early members of the industry will create a movie about music. Mentor drama – Tatiana Panajoti, Director, the art Director of theatre "Three Oranges" prepared workshop landscape mysterial theatre. Mentor current artists Anfisa Kochneva, event organiser in the field of culture and art, the art dealer.
Become a member of the residence can be anyone aged 18 to 35 years. Simply fill out the application form on the festival website http://www.oldnewrock.ru/sendrequestuntil 17 July.
In each direction of the creative cluster of the festival will be the expert Commission selected the winner, who will receive 50,000 rubles.
Festival Old New Rock "Wave" will be supported by the Presidential grants since July 26-27 at the recreation center "Wave".