Rally ROCK FM 95,2 moved the Muscovites in the "rock" of the sixties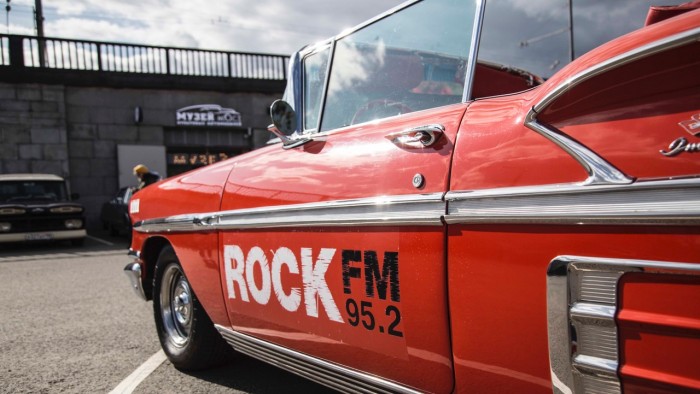 On Saturday Muscovites not only ran the marathon, but also to pump the rock rally, which was attended by 13 of charismatic vintage cars. Radio station ROCK FM 95,2 arranged for students in cooperation with the Museum of iconic carsM. O. S. T. real party in the style of "Rock-America of the 60's".
As told by auto enthusiasts, the Museum features mostly American cars, modified masters of auto-tuning. All the machines were fully moved, they are equipped with modern components to make the car operated well and was comfortable for driving every day.
The center of attraction of the event was the copy of the legendary car DeLorean from the cult film Back to the future signed by Christopher Lloyd who plays the role of mad inventor Doc brown. Using "time machine" ROCK FM listeners went to the future, learning from the master Benderthat awaits in the new broadcasting season!
All the details of the appearance of the rockers in the movie you will learn in the program "ROCK-N-MOVIE". "ROCK BRAIN" will talk about the biggest vagaries of the rock stars. "Star disease", bad habits, greed - it kills all the great teams. As it was detailed in the program "RHAPSODY of DISINTEGRATION". Finally, dark side, stars will open the program"BIBLIO-ROCK", which is based on the biographies of great rock artists.
Road-trip in the "rock" of the sixties left the most vivid memories. The lucky ones who managed to get aboard the rally participants, felt as a rock star, greeting the route of the Garden ring of Moscow and guests of the capital.
Led a convoy orange coupe-hardtop convertible 1958 Chevrolet Impala. Among the iconic car at the "garden" passed: "Bandit" Pontiac Trans Am - twin of the famous car from the movie "Smokey and the bandit" 1977, cherry coupe-hardtop 1973 Buick Rivera with a length of over 6 meters, green midsize coupe Chevrolet Monte Carlo, black matte Chevrolet Appach 10, Mercury Grand Marcuiz, Chevrolet El Camino 1959 and others. To fire the rally and joined the team of "firefighters" on the orange truck of GM 1959.
Follow the news of the new season Radio ROCK FM 95,2 on the website rockfm.rutake part in our promotions and sweepstakes.
ROCK FM 95,2 for many years around the clock brings joy to those who know no limits – in life and in musical genres. The best hits of 70-80-ies, songs the legends of rock music Queen, AC/DC, Sunsetorange, U2, The Rolling Stones and the best modern tracks in the style of "rock" - it's all ROCK FM playlist. All this can be heard in the new season on ROCK FM 95,2. Detailed information can be found on the website www.rockfm.ru and social networks stations.