Carnival summer! Started selling tickets for the "INVASION" 2020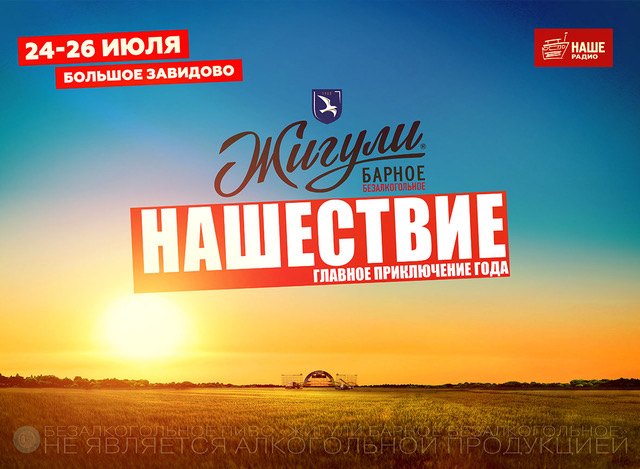 Photo source:
Press service
Prepare sleighs in summer, and buy tickets for "INVASION" in the fall! "NASHE Radio" and the organizing Committee of Russia's largest musical "open-air" has announced the start of ticket sales for "INVASION" in 2020. In 2019, the festival celebrated its 20th anniversary, the musical festival was visited by over 200 thousand people. For four days, made 143 of the artist and collective, giving viewers a 6000 minutes of great music.
We will remind, last week it was announced the dates of the Main adventure, which will take place on 24, 25 and 26 July 2020, in the Big Zavidovo the Tver region. From today the tickets for "INVASION" can be purchased at an exclusive price valid
until December 1, 2019, only on the official website of the festival nashestvie.ru
"INVASION", which itself is one of the most anticipated large-scale musical events, in 2020 will be filled with an atmosphere of carnival fun. The organizers will add colour to the annual festival, calling upon the creativity and imagination of loyal fans and new guests. A pass to the festival in costumes and memorable images will bring the audience in addition to bright emotions, a lot of nice bonuses.
This year there are new categories of tickets, as well as to accelerate the startup process to the Parking lot, ordering the disposition of vehicles and for security purposes, the audience has changed the rules of Parking of vehicles.
On the "INVASION" of 2020 will be three tent camps: the Sverdlovsk, Moscow and Leningrad VIP. Tent city "Leningrad VIP" to spectators with tickets VIP with improved infrastructure, makeshift streets, lighting and power points for recharging mobile phones will be increased in comparison with last year and will occupy the territory of the former town of "Leningrad".
Tickets for the Park are now divided into four categories: "Motorcycle", "Car", "Van" and "motorhome". Now on the vehicle of each type can be stopped only by a certain category of ticket. Depending on the type of vehicle is issued a different number of Parking bracelets: one to four, which, in the presence of all the guests tickets to the "front" or FAN, will allow an unlimited number of times to go to the territory of the festival into the Parking lot and back. 2020 Parking bracelets can be obtained only if the ticket has been implemented, the entry of the vehicle into the Parking lot.
Another innovation of the "INVASION" 2020: buy tickets categories: SUPER VIP, as well as booking tents in a tent hotel on site of the festival or accommodation in a nearby hotel online produces. Nominal tickets for "INVASION" are only sold on the website nashestvie.ru