Platform Stay found a way to separate the artists and the audience
Notice
: Undefined index: wrap_width in
/myarea/web/mesmika/public_html/templates/boxed/content/default_item.tpl.php
on line
49
>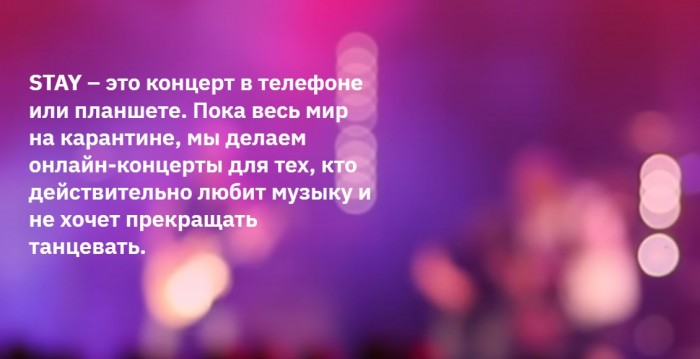 Notice
: Undefined index: wrap_width in
/myarea/web/mesmika/public_html/templates/boxed/content/default_item.tpl.php
on line
49
>
STAY is a platform that aims to support artists and institutions who have a hard a period of quarantine. March 29 will be held the first concert, and ticket operator Ticketswallet offers innovative platform.
Virtual room for online concerts Stay is a platform as close to real concerts, where there is a chat where all communicate. At the moment artists are in a situation when you may lose a loyal base of fans, not having them touch indefinitely. Here at the STAY — we can talk about solid interaction before the concert (bought the ticket), and after — within the chat.
How it technically happens:
1. The audience buys a ticket on the website staystay.ru.
2. Receives SMS with a request to install Ticketswallet, where he was waiting for a smart ticket (code) to the event.
3. Each smart ticket is a function of "Chat" where are all those who bought a ticket to this concert. All communicate with each other during the meeting or before it.
Platform STAY up with and implement the St. Petersburg PR Agency Doing Great Agency in cooperation with partners. To request a presentation on the site staystay.ru or, send mail to: staystay@doinggreat.ruAll the latest news in the Telegram channel: @staystaytv