The impartial prize figures Top Hit Music Awards will announce the winners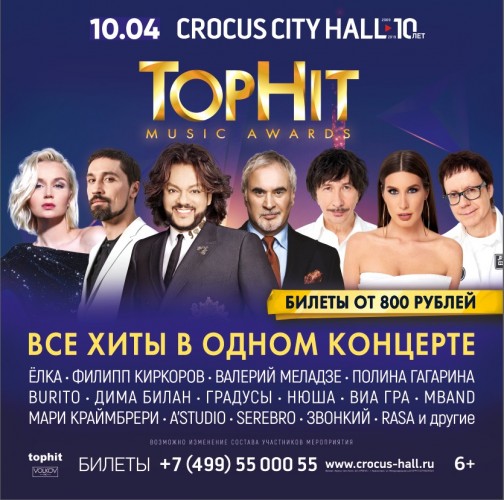 Photo source:
The Agency Prstories
10 April 2019 at the Crocus City Hall in Moscow will host the VII awards Ceremony Top Hit Music Awards.
For premium Top Hit hold the title of "the impartial award of digits", which is based solely on statistics and not subject to appeal.
Also says the soloist of group Burito Garik Burnyshev:
"With Top Hit will not argue. Statistics - a stubborn thing".
This time for the award Top Hit Music Awards for the number of radio nominated:
●Best performer – Tree, Polina Gagarina, Loboda, Christina Orbakaite, Thank
●Best performer – Valeriy Meladze, Dima Bilan, Grigory Leps, Leonid Agutin, Max Barskih
●Best group – C, lube, Burito, Serebro, Hands Up!
Praises the objectivity of the award and owner of a large number of music awards Dima Bilan:
"In all my creative activities I have many times nominated as "Best performer", but to get this nomination in the award, which is based only on evidence, is especially nice."
By the way, this year was different and people's artist of Russia Dmitry Malikov, who in 2019 has secured the title of favorite of listeners and broke all radio charts, and is nominated as "Radiosurgeries 2019":
"I always knew to be on the wave, it is necessary to keep pace with the times, and followed this principle. Very glad it's noticed and appreciated. Last year marked 30 years since I went for the first time on stage, and I am pleased that today my songs remain popular among various audiences"
Among the nominees for the YouTube version are Russia Egor Krid, LJ, Miyagi & Endspiel, Time and Glass, Matrang, Little Big, Kazka and other performers.
By the way, in 2019 will be lucky and those who spent so much time in the shadow of the big names. After the official ceremony Top Hit Music Awards held professional prize, which will be named the best record labels, production companies, songwriters whose hits are often sounded on the radio of Russia and were viewed on YouTube.
As well as two outstanding figures, selected from among artists, composers, producers and other representatives of Russian show-business will be immortalized in the Hall of fame Top Hit. This special award is already marked 23 musicians, among them Leonid Agutin, Sergey Shnurov, Zemfira, the band "DDT" , the group "BI-2" and Maxim Fadeev.
In total, the award Top Hit Music Awards, established more than thirty nominations for Russian and foreign performers and record labels.
Stream of the ceremony will be held online on the YouTube channel and social networks. The recording of the broadcast will be shown on TV.
The organizers of the award are the Top Hit and the production company Volkov PRO.