People's artist of Russia Alexander Filippenko will show in Petersburg performance "the author in captivity"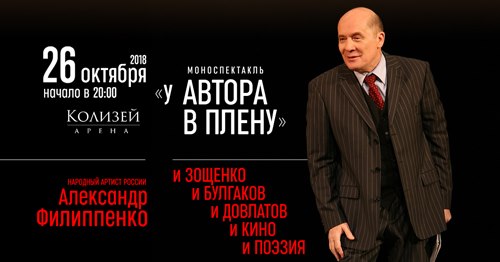 Venue:
"Coliseum", Nevsky 100, Saint-Petersburg
A visa is required:
для граждан России не требуется
October 26, at the Coliseum (Nevsky, 100) people's artist of Russia, unparalleled Alexander Filippenko will show in Petersburg performance "the author in captivity", where "everything was in confusion in the oblonskys 'house": Zoshchenko, Bulgakov, Dovlatov, film and poetry.
Alexander Filippenko has repeatedly said that he feels the interpreter author to the audience... And it turns out the artist is just brilliant! "This solo performance is an attempt to find a reflection of our "today" in the lyrics is different in its own great authors, he says. - My main task is to cause reflection in the audience, and they decide they make a choice: to surrender to the archive, and what to ask". The legend for many generations of viewers, Filippenko combines on the scene of a tragic farce and work of his close-minded writers and poets: Mikhail Zoshchenko, Arkady Averchenko, Boris Pasternak, Vasily Aksyonov, Mikhail Zhvanetsky, Vladimir Vysotsky, Bulat Okudzhava, Yuri Levitanskogo, Sergei Dovlatov. Add to that kinoservice and you only about get the extravaganza that awaits you this evening.
Charming and charismatic, beloved and even adored by several generations of viewers, "man-theatre" Alexander Filippenko has starred in more than 80 films and played a whole gallery of villains, thugs, and immortal Kashcheev. And his theatrical role? However, he himself is already a theatre and a full, bright, polyphonic spectacle."The author in captivity" — the author's embodiment of literary texts, linking three centuries. There are a lot of music, tailored to each quote, lots of laughter, intellectual fullness and joy of belonging to the omnipotent Word, who "was at the beginning." Now the actors reading the scene, can be counted on the fingers. This is a huge professionalism, it is difficult and hard, but Filippenko is a master of a colloquial genre.
"My audience has not changed, it's mostly intelligent, well-read and sophisticated people who love not vulgar humor and satire, not afraid of new and not nostalgic for the Soviet Union - says Alexandr Georgievich. - But they are much younger! Now looking around the room and see young faces! Older less and less... and now, if you do pension reform, they absolutely will not be... To me behind the scenes come, I ask them: "What you didn't react when I talked about the Prague spring of' 68?" And they say: "You know, Alexander G., our parents in the 60's, the year just born"... so I'm trying them all to tell." Getting captured is beautiful!
Video: A. Filippenko reads Zoshchenko
The beginning at 20.00
Tickets http://agf.polygon.group/