JADU: I had an idea to write in the military lyrical language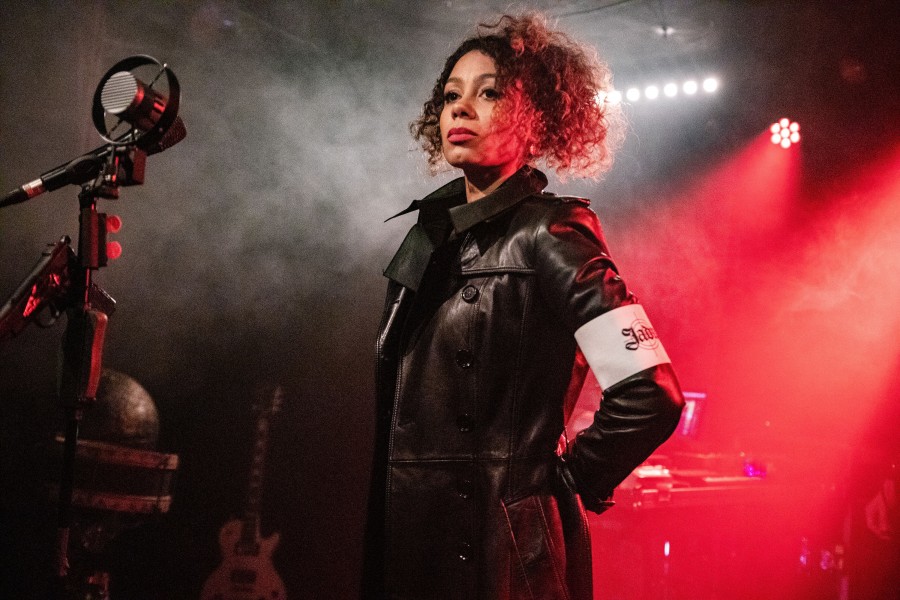 Источник фото:
https://www.protain.de/jadu.html
Last year JADU established her new music genre "Military Dream Pop". Along with some tour dates with LINDEMANN she releases her newest single "Auf Drei". Mesmika asked JADU some questions after her show in Saint Petersburg.

Mesmika: What are your impressions of Russian fans?
Jadu: Very good. It was the first time to play here, they are full of energy, they were totally into the music, and they were clapping. I really have a good feeling, beautiful warm people, that was very nice.
Mesmika: Are the fans here different from the others, for example, European fans?
Jadu: Yeah, I think so. They are extremely open-minded for something new and being into it, and they interact from the very beginning of the show and it was new for me because my music is more like music to listen to the lyrics, and the most people are standing there and just watching more before they get warm with it. But Russian fans were into it from the beginning, that's was very nice.
Mesmika: What are you feeling to be on the tour with a legend, with Till?
Jadu: I'm very thankful for it, because it's a big opportunity to show the music to people all around Europe and Russia. I'm very thankful, that he said "Yes", when I asked him if I can join the tour and yeah, it's very nice. He is a very kind person. And Peter also.
Mesmika: Did you ask him directly?
Jadu: I texted it him.
Mesmika: On Twitter?
Jadu: No-no, I've got his number.
Mesmika: Oh!
Jadu: Yeah. We knew each other before, we went fishing. He was on one of my first concerts in Berlin in the beginning of the year because I'm on stage since one year, I'm a very newcomer. He came to my show (I invited him) and then I asked him in autumn if I can join him on the tour.
Mesmika: Your genre is called "military dream pop" or a "military pop"?
Jadu: It's "military dream pop" but it became more "military dream rock", cause on stages it's more rock music, and on the record it's more like pop music.
Mesmika: As you said in your interview, it's totally new. How do you see the future of this genre?
Jadu: I think I want to get this more forward and I am working on new demos and for me it's like putting theatrical things on stage on the show and music and lyrics all together, I try to paint one picture, I mean a kind of movie for the people who listening to the music and see it. And yeah, we will see next songs, they will be about that.
Mesmika: You are a main character of your video Auf Drei released in January. Was it your first experience to be in a video?
Jadu: No, no. This is my fifth, sixth video? So, first video came out in 2017, which was not on the record, and then in October, 2018 the first release of the new album came out, it was Uniform and then I released I don't know, like three-four other videos. Auf drei is the first one after the first album.
Mesmika: What is war for you personally?
Jadu: For me it's like situations in life when you have to fight for something. Fight for love or friendship and there were so many situations that felt like fight and so, I had and idea to write in the military lyrical language and it fits very well to situations, that I went through the life.
Mesmika: You were an estate agent. Tell me the moment when you realized that you want to be a musician only.
Jadu: I want to be a musician since I can sing. I was more into this "I have to do something, to earn money and have a "normal" job". Because it's like a dream to be on stage, just do music. But than older I got, than more I felt – "I cannot do this, this 'normal' life, I want to do what I love or what I ever dreamed of". It was music, so I said: "If I don't do it now, I will like "be in sadness" the rest of my life". So I said "OK, I'll try it now".


Mesmika: Are you kind of celebrity in Germany?
Jadu: I don't know (laughing). I'm a newcomer. There are a few people of course, they know me on the street and want to do a picture but no, I want to say I'm not a celebrity right now.
Mesmika: You said that you love Lana Del Rey and Marilyn Manson. What are the most favorite songs of these artists and why?
Jadu: Oh, I have to think about it. Lana Del Ray – she has so many good songs, actually the last record is really good - Hope Is a Dangerous, Thing for a Woman Like Me to Have – but I Have It – which have so long title, this is really good song. I think it's the newest song, that came out. And also Video Games, Blue Jeans, there are so many good songs.
Mesmika: White Mustang?
Jadu: Yeah, I mean I love almost every song from her. She is amazing and all of her records are very different. She is a unique musician, I think. I love her, yeah. And for Marilyn Manson - his old records are, of course, super cool. And The Pale Emperor, which is pretty new – one of my favorite albums. Yes, a lot of very good songs, cannot decide. I listened to them, when I was young, in my school time.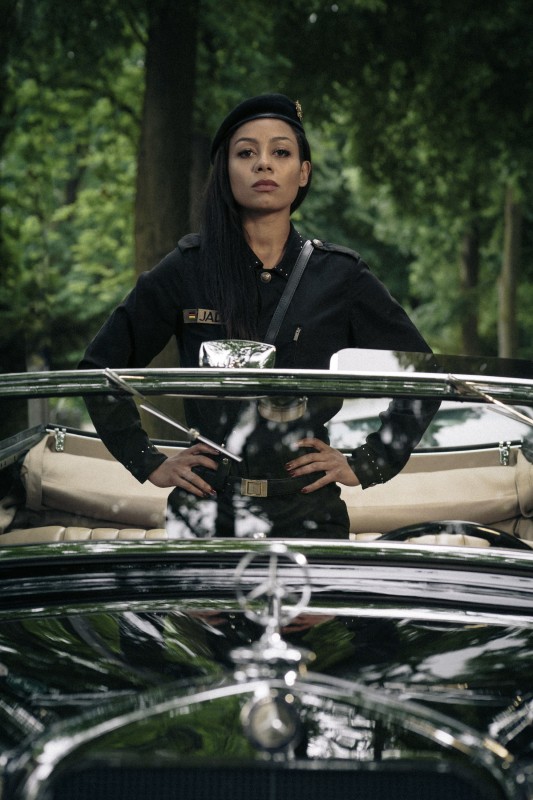 Mesmika: What are your interests besides the music?
Jadu: At the moment I don't have much time to have something like a hobby, but I usually go to sports, work out in the gym. And I shoot, sport shooting, I do that.
Mesmika: With a pistol or a rifle?
Jadu: With a pistol, yeah. But I don't have much time, so I wasn't there for a long time. And I like painting, my mother is an artist and I do that too. For the last tour I painted the tour tickets, so the fans could buy tickets, that I drew myself. That took long time. So I like painting architecture (showing paintings on her mobile phone).
Mesmika: Did you draw buildings St. Petersburg or Moscow?
Jadu: No, I didn't do this for this tour, this is about 19 dates, and I didn't have time because it takes a lot of time.
Mesmika: In which country or place do you dream of performing?
Jadu: I would love to go to South America, I would love to play everywhere actually.
Mesmika: World tour?
Jadu: Yes, it would be great. Playing in US, in Asia - I'd like to play everywhere, because I think it's exciting to see, how people react from other from other countries to your music. I mean, they don't understand it. To sing in German is exciting.
Mesmika: What can you say to people who are fighting? I mean not only a war, it may be fight for love, relationship - any type.
Jadu: Keep on fighting, if it's for a good thing or the thing you believe in. And I think if you believe in something then it's worth giving everything and put energy in it and fight for what you love or who you love.
Mesmika: Good words!
Thanks Sandra Eichner and Irina Volkova for helping with the interview!