"Time is the most valuable possession you can give to someone": Interview with The Iron Maidens
Источник фото:
https://www.facebook.com/theironmaidensofficial/
The Iron Maidens from Los Angeles is by far the most successful Iron Maiden tribute band in the world. The reason for this success is not only that it's an all-female band but also because of their extremely professional musicianship. Nearly one and a half million Facebook subscribers and very successful shows around the world are proof of this.
Hello guys, how are you? How do you deal with the current situation, personally and as band?
NIKKI: I think we're all ready to get back on the road as soon as possible! Right now Los Angeles is still under strict lockdown due to COVID-19 so I've been staying home with my fur babies and working on music. Keeping busy keeps me sane!

LINDA: It was shocking when we first heard all our shows would be postponed indefinitely and we were not allowed to do anything but stay home but, during this time, band is learning a lot of new songs to add to our set lists when we start touring and personally I am practicing a lot and enjoying the time at home with my dogs and husband. I hope you all are staying healthy and that we can see you sometime in the near future!
COURTNEY: Im very well. I have been making the most out of the current situation and using my time wisely. Spending my time writing original music, practicing my instrument and enjoying the downtime with my other half and kitties. The band is putting together some live feeds for our fans on social media and we are also having fun learning some new songs for our set for when we return to the stage.
KIRSTEN: I feel extremely fortunate to say that I'm doing well during the pandemic. I do miss performing with the band but I am enjoying the down-time at home with family--including two-legged, four-legged, and feathered.
WANDA: I'm following the recommendations of the CDC (the United States Center for Disease Control & Prevention) and the state of California. I am hoping that a vaccination is available soon. As a band, everything is on hold for us right now. We are not currently rehearsing or performing.
"X-factor" Album has its 25th anniversary this year. What do you think about this album and in general about Blaze Belyey period?
KIRSTEN: I think X Factor is an underrated album. It definitely has some strong tracks on it. I used to perform "The Aftermath" with a previous band. The album has a melancholy feel. I think Blaze did a capable job but let's face it, he had some big shoes to fill following Bruce Dickinson's departure. And on a more personal level, I like how gracious and diplomatic Blaze always sounds when speaking about his time with Maiden.
NIKKI: I'm honestly not too familiar with that album, but I do love "Sign of the Cross!" We recently started playing "The Clansman" live and it's a blast! I'm hoping we can include more Blaze songs in the future.
LINDA: "Man On The Edge" and "Sign of the Cross" are the stand-outs from the X-Factor for me. I am hoping we can play these songs at some point!
COURTNEY: I haven't listened to the album often but i enjoy a tune or two. A good song is a good song.
WANDA: It's not my favorite Maiden album but, since they stayed true to their sound even with a new singer, I enjoyed it . I remember thinking when I bought it that it might be radically different than my other Maiden recordings. Thankfully, that was not the case. I also remember thinking that Blaze sounded a bit like Bruce back then.

In making of what Iron Maiden album you would like to have had participated?
NIKKI: It's so hard to choose... but I'd have to say Powerslave!
LINDA: The Number of the Beast \m/ (With Killers as a close runner-up! HAHA!) I just LOVE Clive Burr's energy!
COURTNEY: Somewhere in Time
KIRSTEN: Any one! Tough to pick, but I'll go with Seventh Son of a Seventh Son. Or maybe Brave New World. Or maybe...
WANDA: None of them because if I went back in the past and changed something, it would be different and there is nothing I would want to change. I wouldn't have minded hanging out while they were recording Piece of Mind though.
What is the most complicated Maiden song for you to play?
NIKKI: "Alexander The Great" is pretty challenging. The solo to "Caught Somewhere In Time" is tricky to me as well sometimes.
LINDA: Seventh Son of A Seventh Son because of the timing in the mid-section with the spoken words. Completely AWESOME song!!! \m/ I hope we play it again soon! We've only played it once so far with special guest on keyboards, Michael Kenny from Iron Maiden! It was sooo magical!
COURTNEY: I don't find any of the songs to be complicated as they are embedded in my brain after growing up with them. I usually can play anything I can sing to myself. The difficult part is playing an entire set of Iron Maiden. I compare it to running a marathon! Keeping the energy going for two hours straight with no breaks is the challenging part!
KIRSTEN: I feel like every Maiden song poses some kind of challenge for me vocally, like a certain note (end of "Gangland"), phrasing (middle section of "Alexander the Great"), or amount of lyrics ("Rime of the Ancient Mariner"), to name just a few examples.
WANDA: Probably Rime of the Ancient Mariner.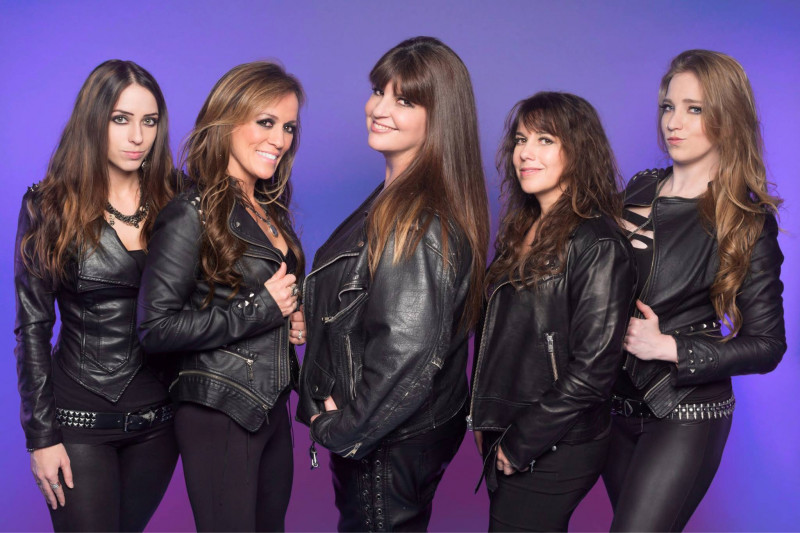 (Photo: https://www.facebook.com/theironmaidensofficial/)
Are you particularly excited if Maiden musicians visit your show?
NIKKI: I would be ecstatic! Some of the girls have had that happen already.. I hope it happens again one day!
LINDA: I am nervous by nature so when I hear any of the actual band members or crew are going to be at a show, I pretty much shit myself (with excitement, of course!) HAHA! I hope someday one of the Maiden men might sit in with us on a song! ❤️
COURTNEY: It is always an exciting show when anyone from Maiden shows up to one of our gigs. It can make you nervous, but it keeps you on your toes to not mess up! It is an honor for us knowing they took time out of their lives to come to our show. Time is the most valuable possession you can give to someone.
KIRSTEN: I just hope I wouldn't freeze, haha! I get nervous even when members of their crew come to our shows!
WANDA: Steve Harris and Bruce Dickinson actually were already at one of our shows. In 2006, we were on the same bill as Lauren Harris (Steve's daughter) in Mexico. Steve was there to support his daughter but stayed around for our set too. We were really nervous seeing the guys in the audience but, we did alright. Steve came up to us backstage to let us know he liked the show so things can't get any better than that! It was a night not soon to be forgotten!
What is the best concert you have visited yourself yet? (not only Maiden)
NIKKI: I'd definitely say the last Maiden show, "The Legacy of the Beast" tour, AC/DC on the "Black Ice" tour, and Megadeth when I saw them in Mexico City a few years ago.
LINDA: Iron Maiden Beast on the Road in 1982 with Girlschool opening. I saw Girlschool playing and got SO jealous they were touring with Maiden!! HAHA! I didn't even play drums yet but knew I could do what they were doing if I tried and was inspired to get some drums and learn how to play! It was also Clive Burr's last tour so I am so glad I had a chance to see him play live with Maiden. It was a life-changing concert for me. Aside from Maiden, I also enjoyed seeing Barry Manilow and also Pantera with White Zombie many years ago.
COURTNEY: King Diamond live playing on Halloween in Los Angeles 2014.
KIRSTEN: Besides Iron Maiden, of course, I would say Tesla and Rush (two separate shows--they were not touring together).
WANDA: In addition to Maiden, I loved seeing Rush in concert. They never disappoint.

You played in a lot of existing countries. Are there some left you would like to visit?
NIKKI: Of course! Russia would definitely be one of those countries. I'd love to visit everywhere honestly. France, Greece, Finland.. the list goes on and on.
LINDA: Always! I would love to get to Ireland and Scotland, Argentina, Chile and more parts of Brazil, Italy, France, Spain (I was recovering from an injury last time the band went to Spain) and of course, RUSSIA! I wouldn't be sad if we could go to Tahiti too! HAHA!
COURTNEY: Many, especially Russia!
KIRSTEN: Certainly! Russia would certainly be high up on the list!
WANDA: Yes, of course. In fact, before the pandemic, I was getting information about taking a trip to Russia because I've always wanted to go there.
Your band supports animal rights and all of you have pets. Do you want to say something about your engagement?
KIRSTEN: Thank you for asking! Animal rights and veganism are principles I feel very strongly about, ever since I was child. I have a long history of working as an animal advocate--both professionally and as a volunteer. Raising awareness about the literally billions of animals exploited and killed by humans every year--totally needlessly--is the most important issue to me. That's why I'm so excited and happy to see the explosion of vegan awareness in mainstream culture--so many restaurants now offer vegan choices, all over the world! And we share our home with two dogs, two cats, a donkey, a mini horse, a potbelly pig, and five hens--all rescued.
NIKKI: Yes, we're all huge animal lovers and supporters of animal rights! I have a small dog and two cats, and I wish I could help take in more!
LINDA: Absolutely! We all share a deep passion for animals in this band. It is a strong common bond between us along with music! We all stand up for animal rights. I can't imagine life without dogs and completely love my Cyrus (German Shepherd/husky mix) and Sophie (Husky/Malamute mix) with all my heart and soul. I miss them so much when I'm on tour. I try to help with rescue when I can and put my heart on the line for every stray animal I find. Someday I hope to win the lottery and open up a big animal rescue and save, care for and find loving homes for animals in need of new beginnings. It is so emotionally draining and rewarding at the same time but the demands are all-encompassing to do it right so I am only able to help on a very small scale right now. Get your pets spayed/neutered please!!! And animal abuse is NOT OK.....EVER.
COURTNEY: I have two cats and they are my life. Being a musician on the road all of the time, it can be tough to start a family or have time for anything else. My pets erase any feeling of loneliness that I'm left with after a long tour. My decision to have pets was one of the best choices of my life.
WANDA: I actually don't have any pets but thoroughly enjoy the pets of my friends and relatives. :)