"Surprising, being where people didn't expect us was the plan": Interview with Emmanuelle Zoldan (Sirenia)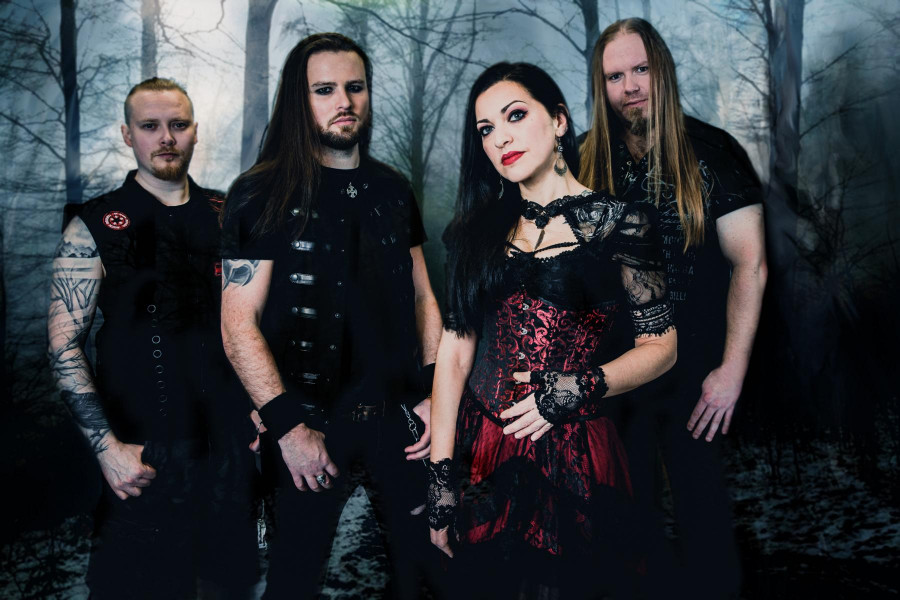 Источник фото:
Photo: Richelle ter Heege
With their new, tenth album "Riddles Ruins & Revelations" Sirenia showed that they are more than just another symphonic metal band. The new work sounds fresh, modern and at the same time it is still Sirenia. Mesmika spoke with the charismatic vocalist Emmanuelle Zoldan about the new record, the reaction of the fans and overcoming challenges during these difficult times.
- Hello Emmanuelle, how are you? What are you doing at the moment, and how has last year affected your life?
- Hi, I'm doing good these times, working on the new album promotion, and on several projects. This last year has been chaotic as 90% of my engagements have been cancelled, and I'm missing touring so much. On the other hand, this suspended time has been the occasion to focus more on my personnal projectsand spend more time than with my family.
- Congratulations on the new album! What are your expectations for "Riddles Ruins & Revelations"?
- We hope that the fans will apreciate the new musical direction we took on this album, it was important for us to surprise them with new sounds experiments but without never losing Sirenia essence. We hope to reach a larger audience as well, with an album that is extremely variated.
- Did Covid 19 have an impact on the release of the album in any way?
- Yes of course, we had to adapt our plans all the time mainly because of the lo-ckdowns and the impossibility to travel. We postponed the recording session, could'nt travel for the video shooting, had to forgot the idea to work with Jacob Hansen this time for the mix and mastering, so we had to find solutions, sometimes urgently.But this challenging environment has been motivating and stimulating in our work. We have put all our energy and heart to give birth to «Ridles, Ruins and Reve-lations» and it gives to this album a special flavour to us.
- What exactly does the album title mean and stand for? Same for the cover artwork?
- Morten has never talked too much about his tiltles choices, lyrics or event art covers, prefering to leave it up to the fans to interpretate it. And I think it's a good think; there is as much possible interpretations as individuals on earth, and that makes the think interesting!It's always funny to read here and there how people interpretate it, so we keep the whole mystery ;)
(Photo: Nikolai Birulja)
- My impression was that the new album sounds like a logical continuation of "Arcane Astral Aeons", but with slightly more electronics and less symphonic. Modern, but still epic. Do you agree with this, and how do you think this work does differ from previous Sirenia albums?
- Yes I totally agree, we initiated a bit the using of some electronic elements on AAA already, but going further in the process this time was the plan. We wan-ted something fresh, modern, something in the same time new and faithful to Sirenia essence. On each album, Sirenia has experimented new things, its sound has evolved through the years and this time the new direction taken bring to our symphonicsound a breath of freshness, with some sound references to the 80's soetimes, but the identity, the singularity of Sirenia is still here.
- Your first single on "Addiction N1" is far from the worst Sirenia song, why do you think there are so many negative comments under the video?
- A lot of fans have been surprised and overwhelmed by this song because it wasnot what they were expectating from Sirenia. The «catchy» aspect of it unleashed bad reactions, and we were expecting that, that was not a surprise. But surprising, being where people didn't expect us was the plan. I believe that a band needs to experiment, to take risks to evolve and enrich his essence, and serving the same concept over and over, especially when the band is in music industry for a long time, would definitely be suicide. One of the strenght of this album is it is a very variated one. All the songs deliver different colours, and at-mospheres. «Addiction» is the catchy one, but all the others are in a different direction and energy, so even the ones who have been destabilized by this one will be more satisfied with other songs closer to what they are expecting.
- Another great track on the album is "Downwards Spiral", performed with Joakim Næss. Why did you decide to record a song with him again and were there any other candidates with whom you wanted to perform a duet?
- Joachim is a good friend of Morten and a guy that we all appreciate a lot, as much for his fantastic voice than for his human being, so it was natural for us to invite him again on this album. Once again, he did an amazing job, and everytime I hear his voice it gives me goosebumps!
- How did you come up with the idea to make such a great cover of Desireless' "Voyage Voyage" ?
- This is one of Morten's favorite songs, and playing it in the tourbus every night for him became kind of a funny daily routine for us. «Voyage Voyage» is kind of a «mascot song» for the band. When Morten came with the idea to cover it,we first thought it was a joke (not because of the song itself but because it washard to imagine how this song from the 80's could sound in a metal version), but it was absolutely not a joke from him. And when we heard the fantastic arrangement he did, we had to admit that it was brilliant!
- I think due to "Passing Seasons", "The Timeless Waning" and "Downwards Spiral" one can safely buy the new album! What are your favourites on the album and why?
- In my opinion, «We come to ruins» is one of the best songs of the album, be-cause it is a very variated song, showing differents atmospheres in it; it's a good summary of the different artistic directions we took on the whole album.
- Why haven't the new album come out on vinyl? Or is is planed later?
- It's not planned for now, but probably later if the fans demand is enough big.
- Besides Sirenia you have a lot of different projects, isn't it diffi-cult for you to mentally switch from one project to another?
- Not really, I have always needed to be versatile, to explore different horizons inmusic, to mix genres, it's extremely enriching in many ways, it's challenging and stimulating. Being stuck in one and only one genre would be boring as hell for me.
-Thank you very much for your time!

(Photo: Richelle ter Heege)