"Getting slapped with quite a dose of cold naked truth can be really hurtful": Interview with Ricardo Amorim (Moonspell)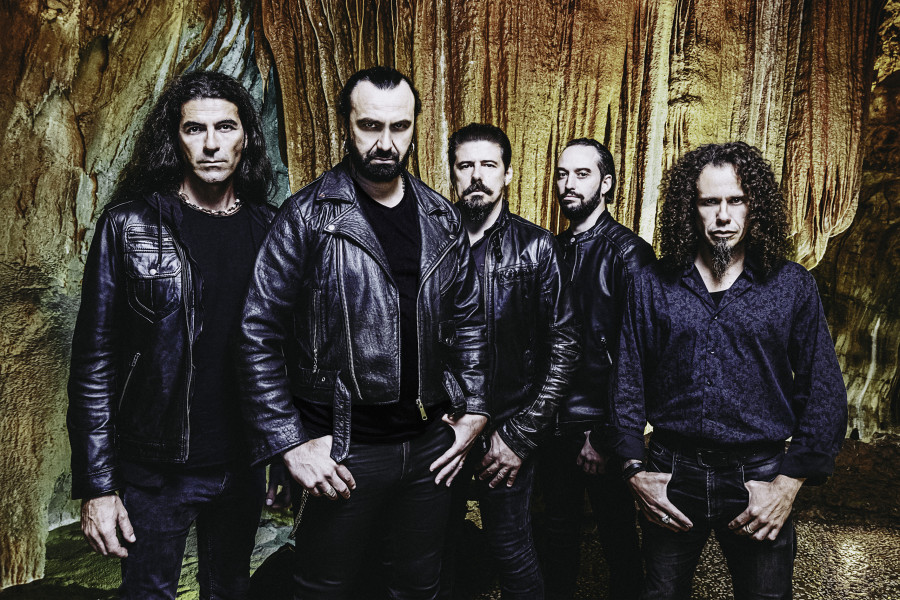 Источник фото:
Photo by Rui Vasco
Moonspell - the legendary gothic metal band from Portugal released their 13th album "Hermitage". The new record saw the light on the 26th of February on Napalm Records. This time the band made an album, which turned out to be the total opposite of their last work "1755". This doesn't mean, in any way, that the record is worse, on the contrary, Moonspell have expanded their horizons while keeping their individuality. Mesmika spoke with Ricardo Amorim, the guitarist and songwriter, regarding the new album, the ongoing issues in the world and the band's plans for the future.
How are you Ricardo? What are you doing at the moment?
I'm doing fine, thank you for asking. Right now I'm just starting to answer this interview and later on I'll have to study some music, work on my guitar chops, programming sounds on my gear so that when I get the opportunity to play live again with Moonspell, I'll be ready. I' will also play with my son soon as we wakes up from his afternoon nap and I guess I'll be cooking dinner later on.
It has come to my attention that the COVID-19 situation in Portugal wasn't very good during the past few weeks. How did the pandemic affect you personally and what are your thoughts on the vaccine?
In fact, the last few weeks have been quite hard on us but gladly, the numbers are now decreasing as fast as they grew. I guess the hardest thing to deal with is the fact that you do not know what the future will bring you. Will I ever step on a stage again? When will I get again the freedom of hanging out with family and friends?
And mostly… what kind of future lies ahead for my son? He's 3 years old and since kindergartens are closed, he doesn't get to make any friends or develop any social skills because we're confined to our homes. So, these are some of the questions that have been haunting me lately.
I do believe vaccination will play a big role sorting this out but I'm afraid not all countries will be able to vaccinate effectively due to production and distribution costs. The so called third world countries will take longer to vaccinate and therefore the risk of COVID mutations will be bigger, meaning, you won't be able to fight this
effectively. This is an issue that should be addressed as humanly as possible and not as business opportunity.
A few years ago in one of your interviews you said "you need a total disaster to make people think again". Would you say that everything that's happening in the world right now is that kind of "disaster"? And how much will the people change after the pandemic?
Well…to be clear, I do not wish any kind of disaster to mankind, I just used that analogy make a relation between what happened in Lisbon during the 1755 earthquake and the world of nowadays. But still, I can't stop thinking that we are reaching such a degree of stupidity, that only with a real threat we can start putting things in perspective again. I don't think what we're living now is that major threat, or at least yet, but it can be pretty much signalling us that we're walking a dangerous path. We need to realise that living a life that gravitates around our egos and superfluous desires won't do any good. The obsession for economical profit is not helping either, by the contrary, it has become the source of all problems and limitations that Mankind has been facing. I'm no authority on moral behaviour and I don't intend to be, I'm just a concerned person with his qualities and defects, but I do believe that must we be blind if we can't realise that there's a big crise of values and we are loosing the ability to focus on our humaneness.
(Photo by Rui Vasco)
After the release of the single and video "The Greater Good", you faced some problems on the internet. Could you share some of your thoughts on this topic?
The way I see it, is typical situation where one insists on ignoring the bigger picture. We got the video censored on Youtube for unsuitable content but what they do not realise, is that we only used content that was already on Youtube and other platforms of social media, or at least most of them. As for the ignorant and self centred, getting slapped with quite a dose of cold naked truth can be really hurtful and for that we got negative reactions obviously. I'm ok with that…I guess. It wasn't something that surprised me at all and apparently the video served it's purpose.
Congratulations on your new album, I loved it! It goes into a completely different direction from "1755". What do you expect from "Hermitage" and how do you think that the fans will react to the new album?
Thank you so much, it's really great to know that you liked it. Because, after all, we're here to present people with the best music we can do and it is rewarding to know we can make stuff that is appreciated. What I expected from "Hermitage" I already got it. It is the album we really wanted to do and we have no regrets whatsoever, by the contrary, we're very proud of the risks we took in order to have a record that would represent who we are as persons and musicians at the moment. We're just five guys who just want to make music that is free from any genre. I think anyone who has been following Moonspell for all these years will not be surprised by the fact that once again we aimed for something different, because we always have been like this. As for the die hard metal fans it can go both ways. Either they accept it with a open mind and really appreciate it or they'll hate it. Sadly, I'm suspecting it will be the second option, but there's not much we can do about it. It's always a matter of taste and we all know that not everyone can be pleased.
Why did you choose Jaime Gomes Arellano to be the producer this time and how was it, to work in Orgone Studios during the pandemic?
One thing that we all agreed when we started to compose for Hermitage was that we wanted an album that offered music that sounded like music and not the "standard super production" that we hear all the time. We got fed up with sampled drums that sound like typewriters and super compressed layered guitars. Productions are today very clean and the attention to the most little detail is impressive but they also lack soul and all end up sounding the same, where everything gets edited and quantized.
Nowadays, I'm finding it harder to distinguish bands, mostly on the way they sound. During our career, we always had the honor to work with amazing people and we do have them high regards, not only as producers but also as persons, but this particular album was asking for something different and Jaime Gomes seemed to us, that he would be the right guy to help us out with that.
Gomes is the kind of producer that likes to make the band sound like themselves and he makes sure that what you get on the record is the sound that reflects a band performing. We tracked the songs in a more classic way and all the feeling of a live band. Instead of a algorithm, he gave us a heartbeat.
Working on Orgone was just perfect, with a great sounding live room, and you could say, that all the equipment there had a soul of it's own. It's a studio that has a very strong personality, and if that is what a musician is looking for, then Orgone studios is definitely the place to be. We stood for a month in rural England, very much isolated at Gomes place and lived as a family, being that precisely what we needed to record such an album. No fuss around, just a focused band and it's producer in complete quietness.
Your new album is very different from "1755" which turned out very Epic and Theatrical. "Hermitage" on the other hand, is really calm and brooding. In other words, it's like "silence after the storm". How did you and Pedro managed to create such different album? Could you tell me, what inspired your songwriting this time?
Every time before we start working on a new album, there's always a conversation between band members so that we can at least get an idea of which musical approach we'll be taking when writing for the album.
1755 is an album that talks about a historical event that shaped not only Lisbon's future but also the people's mentality at the time. Since it revolves around a catastrophe, it was natural that it came to be quite a Heavy album, and because we are telling a story, having the theatrical side is essencial. Like an Opera Rock or, more suitable… an Opera Metal. Hermitage is very much the opposite, there's no story. It's just an album that
invites you to reflect on the life of people who seek peace and the understanding of life by isolating themselves. That being said, writing music that makes you stop for a while, that get's you in an atmospheric and contemplative mood had to be the obvious choice. As musicians, Pedro and I like to have challenges all the time, so that we don't get stuck artistically in the same formulas. We love music in general and it is in our very own nature to experiment and discover new ways of writing songs.
As for myself, before Heavy Metal came into my life, there was a moment when I was a lot into stuff like Led Zeppelin, Pink Floyd, The Doors, Marillion, Robert Johnson, Dire Straits, Janis Joplin, The Stones, etc… and I realised that such artists contributed to shape the way I listen and play music, so it was just a matter of allowing that influence to come into play, and it gave me the different twist I was searching rather than just writing conventional metal songs.
(Ricardo Amorim (g), second from right, photo by Rui Vasco)
The song texts match the music perfectly . While listening, you just want to be by yourself and reflect on all kinds of things. How did you come up with the idea of "Hermitage" and why did you choose it as the name of the album?
I guess you're totally right. As always, it is Fernando that suggests where can we go. Being himself a very thoughtful guy, and Moonspell being a band that wants to present deep and thoughtful music, Fernando's suggestions are essencial and very appreciated. As for the album thematic , I'll will have to quote him by saying this: "So to speak, solitude is not what we make of it. It's not the romantic retreat we read in books, and not the pathology we develop. It's a response to the world outside, to conditions we are unable or unwilling to change."
The vibe of the new album makes me think of a mixture of your previous albums "Sin", "Darkness and Hope" and "Extinct". At the same time you can hear the influence of Pink Floyd and even Tiamat. Do you agree? And which place do you think that "Hermitage" will occupy in the discography of Moonspell.
It is natural that you get such impressions because it's part of our DNA. All the albums that have a more melodic and atmospheric approach will present you such characteristics. I can agree with the Pink Floyd influence, and it's a band that always have been appreciated within the band but there's also some Bathory influence on it and its a natural process when an artist absorbs from an external source and gets inspired to write music of his own. All bands have their influences and that's why they exist as such. Somehow, the greatest desire for a musician on an emotional level, is to offer his crowd the same experiences that he himself had at some point.
Another significant event in the history of Moonspell was parting ways with Mike. If it's ok, could you comment on that? Could you also tell us a little bit about Hugo and if he had some kind of influence on the album?
Parting ways with Mike wasn't something we took lightly, in fact it was painful for both parties because we've been together for the last 28 years and he was also in the very foundation and development of Moonspell. But either we'd take this decision or we couldn't guarantee that Moonspell would keep existing right now. The reasons behind this decision I won't mention for two reasons. The first one is that all of us don't like to talk about issues that belong to the band's privacy. They're personal and they should stay that way, which leads us to the second reason, that both parties signed a confidentiality agreement in order to make sure the reasons, why we split, will remain within the band only. What matters now is that we focus on music and on getting back on track. As for Mike, I can only wish him luck in the future and I believe, in his right time, he'll be back with his own band.
Hugo is a drummer that was on Pedro's Radar for a while and once the opportunity presented itself, Hugo took the place and showed to be the right guy for the place. Like his predecessor, he was born in USA, being son of Portuguese immigrant parents. He's been playing drums in Portuguese Rock/Prog/Metal bands for a long time and also records as a session drummer for numerous bands out there. He is not only an excellent drummer, but also a very humble and energetic guy that brought us a good dose of fresh air and belief, which was something we were lacking lately. He can play a lot of different styles and puts a lot of dynamics on his playing which really helps the song. When he joined, the songs were already written, and me and Pedro had already programmed a bunch of drums as reference. Hugo not only made them real but also made them sound so musical that it made our jaws drop. I like to say that he can make drums sound melodic, instead of just rhythmic. We are definitely looking forward to start writing again from scratch and having him contributing from the start, because he definitely has a lot to offer.
(Ricardo Amorim, photo Denis Koeln)
Soon Moonspell will be celebrating it's 30 year anniversary. Can you share with us your own personal highlights and low points in the history of the band?
I could start mentioning some Gold records, awards, some dream tours or dream festivals, but I'd rather focus on the fact that, being allowed to write and perform music professionally is the biggest highlight I could wish for, and everyday I'm grateful for it. The low points…well… we had quite a share of bad moments during our career but its always stuff that comes with the job. Fortunately, we always have been resilient enough to solve problems and to keep tight as a unit, but what's happening right now in the world, might be the lowest point, not only for me and the band, but also for all other musicians and all the people involved in the cultural events industry . And that is mostly because it doesn't depend on us musicians, sound engineers, lighting technicians, backliners, riggers, tour managers, etc… if live shows and touring will be a reality soon again or not. Cultural events were the first to be shut and for sure they will be the last ones to reopen , if things ever get back to normal.
Thank you very much for the interview! All the best wishes to you and to your loved ones.
It was a pleasure and I'm the one who's thankful for getting to share some thoughts with you. All the best, and let's hope, we can resume our lives soon. In the meanwhile… let's enjoy "Hermitage".

Interview by Denis Koeln