NAZARETH 50th ANNIVERSARY WORLD TOUR part II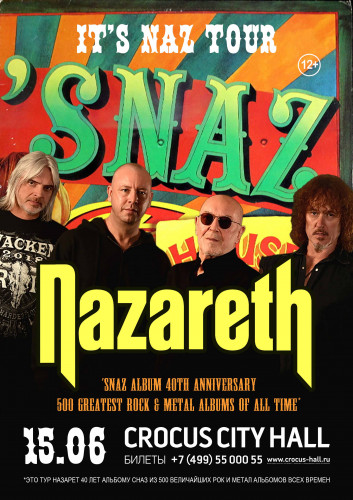 Venue:
Moscow region, Krasnogorsk, street international, 20,
Legendary Scottish band Nazareth continues to mark in 2020 my half century anniversary of a large-scale world tour. After a tour of South America and Western Europe, in February, the group again went on tour in Russia, in which February 12, 2020 will perform on stage of the Crocus city Hall.

New Nazareth Studio album, "Tattooed On My Brain", as promised by the founder of the band, Pete Agnew (Pete Agnew), many "forced to jump out of a sock" climbed the charts in Europe in the Top 30 and Top 50 charts in England. The hit "Never Dance With The Devil" has become a new favorite live performances of the group.
Since the creation of the band most albums, Nazareth have become classics of rock. Released in their Golden period discs "Razamanaz"(1973), "Loud'n 'Proud"(1973), "Rampant"(1974), "Hair Of The Dog"(1975) and "Close Enough For Rock'n'roll"(1976) - a true masterpiece of hard rock that won more than 50 gold and platinum awards, and the ballad "Love Hurts" still the leader of the playlists of all radio stations.

But Nazareth is not going to rest on our laurels of the past, their concerts rock shows, attracting several generations of fans around the world!