An youth festival "In the style of ethno" was held in St. Petersburg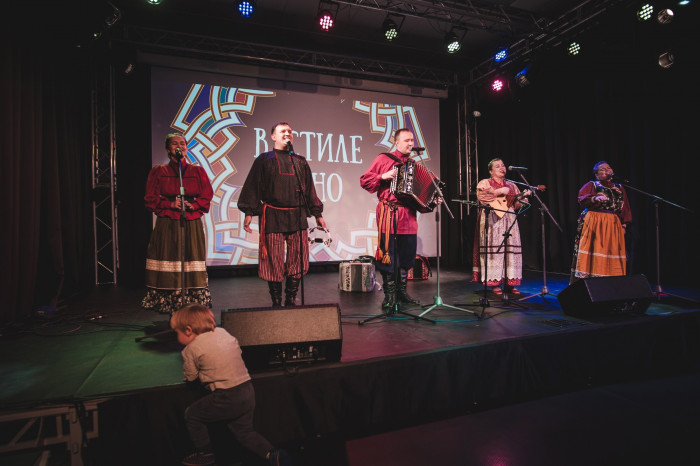 Photo source:
пресс-служба фестиваля
Этнические мотивы, национальный колорит и вкусные народные блюда – именно таким стал фестиваль «В стиле ЭТНО», который прошел в Доме молодежи «Пулковец» 21 и 22 октября.
Участники смогли познакомиться с традициями и особенностями культуры и быта Якутии, Башкирии, Азербайджана, Татар, Дагестана, Чувашии и конечно центральной России. Коллективы, представлявшие свои народы, рассказали зрителям о себе с помощью народных песен, танцев, национальных блюд и мастер-классов по росписи, русской пляске и дагестанской лезгинке, плетению пояса. Образовательная программа фестиваля состояла из этно-квиза и тематических лекций.
На фестивале также прошло открытие фотовыставки, где представлены народы в своих национальных костюмах, посмотреть ее можно в течение месяца в Доме молодежи «Пулковец».
За 2 дня фестиваль посетило более 200 зрителей и 60 артистов. Хедлайнером мероприятия стал ансамбль «ПТАШИЦА», который возрождает и поддерживает народные традиции.
Красочным завершением Молодежного фольклорного фестиваля стала вечёрка, под музыку ансамбля «Вечер-Сокол», которую провел Илья Ахрамеев - известный фольклорный исследователь, хореограф народного массового танца.
Фестиваль показал богатство культурного наследия России, во всем его многообразии и многонациональности. Авторы проекта намерены сделать событие ежегодным, и объединить еще больше творческих людей, сохраняющих и популяризирующих русский фольклор.