Diary Of Dreams at the club Opera Concert Hall-9th Feb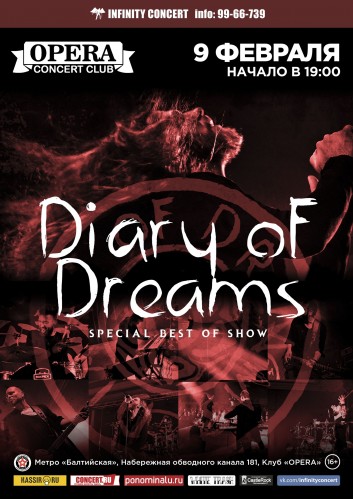 INFINITY CONCERT presents:
DIARY OF DREAMS (Germany) - special programme "best of"
The concert, which you need to survive the last month of winter! This music will help you to find comfort and to find the beauty in an endless winter twilight, the gray silhouettes of buildings and dim lights of lanterns.
Diary Of Dreams return to Petersburg with the traditional February concert, which will perform their best hits!
Diary Of Dreams – a group that for more than twenty years at the forefront of a dark scene, and writes heartfelt and sad songs at the intersection of electronics, rock and neoclassical, Gothic hymns with dance rhythms and poignant ballad, where guitar moan and writhe in agony synths. Each track is a journey to the dark side in a world of strange fantasies and experiences of the leader of the band Adrian Hates. The music is simultaneously full of anxiety and despair and hidden power there which helps to overcome fear and guides you through the dark labyrinths of the consciousness towards the light, hope, and dream.
February 8 meeting in St. Petersburg club "Opera" to go on a journey in a new unknown space and having to wander through the already familiar nooks and crannies of the world the incredible music of Diary of Dreams! The group will present an extensive best of program!