Jacob Banks on 25 January 2020 in Izvestia Hall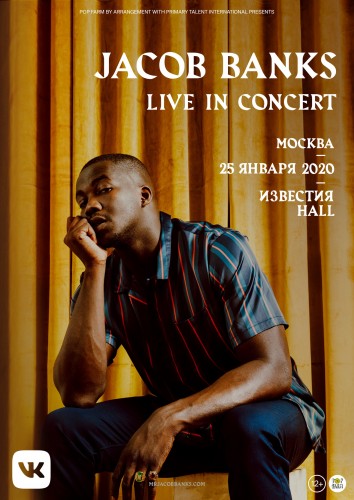 Venue:
Izvestia Hall, Pushkinskaya square, 5, Moscow
January 25 in Moscow Izvestia Hall and 26 in the St. Petersburg club ZAL will be the British singer Jacob Banks, working at the intersection of soul, R&B, hip-hop and African grooves. After July's sold-out concert, to get to which many Russian fans failed, Jacob and the gang will play a show on the larger sites of the two capitals.
Deep Blues baritone, soulful lyrics and debut album-bestseller "the Village" was shot on the banks the way to ears and hearts on both sides of the Atlantic. His unique vocals that some critics put on a par with the voice of the great Louis Armstrong. Attended her concerts fans from around the world celebrate the impeccable style, the highest level of musicians and the British charm of the artist with a smile, letting go of the ironic cues between tracks. Jacob banks do not simply re-invents the soul — he makes music, giving strength and inspiration to people of completely different ages and interests.
Growing up in Birmingham, the 27-year-old native of Nigeria banks already in the beginning of the creative path drew the attention of not only neighboring music lovers, but eminent colleagues: Alicia keys, Emily Sande and Sam Smith. In joint tours the singer is seriously pumped professionalism of live performances, and collaborations with electronic artists: Chase & Status, Sigma, Seeb and other enriched his production tools.
Being a fan of video games, Jacob had a hand and talent to the soundtracks of FIFA 15, FIFA 19, Need For Speed: Payback and Dirt 4. His compositions are a number of popular TV series, including "Force majeure", "Black lightning", "Lucifer", and jointly with X Ambassadors track "Baptize Me" graced the compilation album "For The Throne (Music Inspired by the HBO Series Game of Thrones)".
Jacob banks will be back in January 2020, to warm the audience with a fiery hits and introduce fresh works in the new show. The main thing — to have time to buy tickets, sold-out may occur at any time.