Hammerfall will perform February 15 in the German Ludwigsburg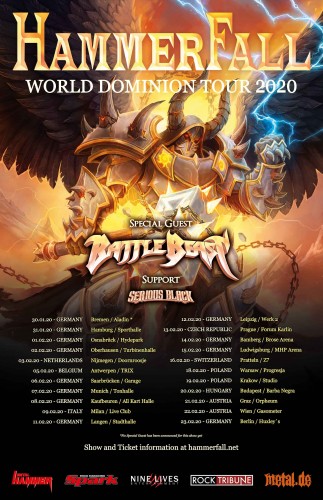 Venue:
MHPArena, Schwieberdinger Str. 30, 71636 Ludwigsburg
A visa is required:
Schengen (Germany)
HAMMERFALL – a legend of epic heavy metal are returning to Germany in February 2020 as part of a world tour with the presentation of the new album "Dominion" and the best hits in the history of the group!
For more than 20 years the descendants of mighty warriors of the North HAMMERFALL stormed the music arena, waving the flag of heavy metal higher and higher over the global charts.
The band's debut album Glory To The Brave (1997) listed in the book "500 greatest rock and metal albums of all time" by the Rock Hard, album of Renegade (2000) and Crimson Thunder (2002) was awarded the gold Statute, and the song "Hearts On Fire", reached the milestone of 25 million plays on Spotify, became the soundtrack of the women's Olympic team Sweden Curling.
The album Dominion – 11 in a row, the song was created rather quickly, but left to "ripen" and "to absorb the epic power" to the necessary state of combat. "In many ways this album is classic HAMMERFALL" says Oscar Dronjak, founder and songwriter of the group, "we were not going to do a continuation of the previous album. We wanted to create a majestic blend that connects the best hand heavy matel, our previous songs and everything that brought us to the present moment."
Balanced and diverse, lightweight, but true metal album appeals to fans ' hearts, offering again to wear combat armor, sharpen swords and iron once again to conquer the musical Pantheon.
"I'm honored to say that the eleventh Studio album by the most important of all that we have ever released!" - describes the album by Joacim cans, the vocalist of HAMMERFALL and owner of epic voice, which brought the group worldwide fame.
15 Feb 2020 HAMMERFALL will present to fans a new album and perform hits from the most majestic in the history of the group. Iron hammer will fall and open up native land like never before! Are you ready to take a punch?
To accompany the Swedes will Battle Beast and Serious Black!