Mando Diao new album "Bang" at the club Cosmonaut on 8 April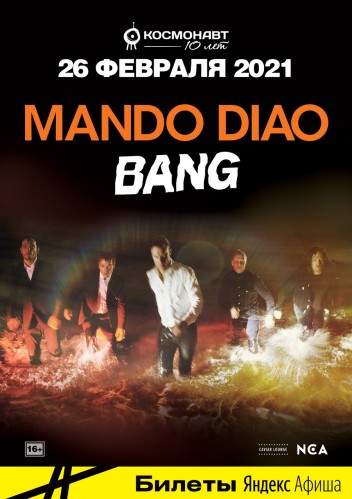 The band Mando Diao perform their best songs and the new album BANG
Swedish rockers Mando Diao since its debut in 2002, have come a long way: have released 8 Studio albums, sold over 1.5 million copies worldwide, played over 1500 shows in more than 30 countries. The lineup has changed over the years, and today, Mando Diao is Bjorn Dixgard, Carl-Johan Fogelklou, Daniel Haglund, Jens Sigersted and Patrick Hakimpet. Mando Diao today became the musical force to be reckoned with in the world.
The group will present in St. Petersburg a new album BANG, which is woven from the eternal rock-and-roll guitar riffs. BANG — a dark, personal, energetic and captivating good. Clearly, freedom has become an important source of inspiration for Mando Diao at work on this album.
"We want to inspire people to be as free as possible... the Album is inspired by the violent and explosive circumstances," says Bjorn Dixgard.
The darkness present in the lyrics, makes this album an enticing and reflects the essence of Mando Diao. Songs limitless, and nothing interferes with music.
"We are not hiding behind confusing thoughts or indefinite descriptions. We sing what you have in mind. There is something liberating when you call a spade a spade. The key word for BANG was hedonism, philosophical theory about how to highlight the freedom and pleasure".
The idea of the album came to the members of Mando Diao during the long nights and big festival performances. According to the team, when they played on the big stage, they felt from the series: "Damn, I wish we have more riffs". In light of this Mando Diao began to create songs and riffs that set the spirit and pace of the album. Some of the songs are on the bluesy side, some closer to the classic Mando Diao.
Album BANG — the result of two years of work, which includes ten explosive and very intimate tracks. On this album the guys sound just as cool as on stage. Doubt? See you in the club "Cosmonaut" on April 8!