Philip H. Anselmo & The Illegals July 23 in Moscow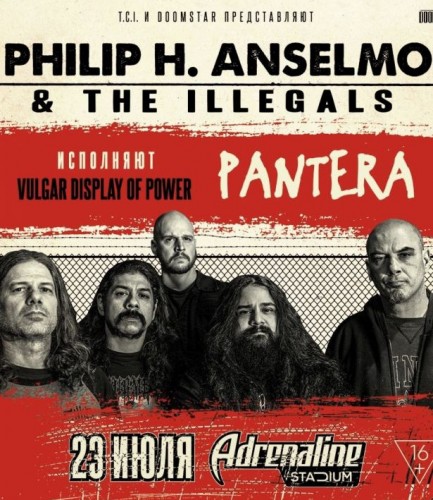 The former PANTERA singer will bring his show A Vulgar Display Of Pantera in Russia
Philip H. Anselmo & The Illegals will play songs from the most iconic albums renowned PANTERA:
July 22 – St. Petersburg, A2 Green Concert and 23 July – Moscow, Adrenaline Stadium
Phil Anselmo is a cult figure among fans of heavy metal. He blew up the audience in the nineties and was part of the biggest events of the metal scene: from record their first commercially successful album PANTERA Cowboys from Hell and ending with participation in the festival Monsters Of Rock at the airfield Tushino in 1991. Phil joined the group in 1986 and was the last vocalist. This was the band brought him fame: a powerful and rough voice, Anselmo has become one of the trademarks of PANTERA, and the team has had a tremendous impact on the development of the metal scene.
Currently, Phil is the lead singer of Down, and also has his solo project Philip H. Anselmo & The Illegals, who made their debut release in 2013. With his team Anselmo will perform the best songs of PANTERA, including songs from their sixth Studio album Vulgar Display of Power, released in 1992, which opened up new musical horizons for PANTERA (completely unique groove metal style of the band was formed on this plate) and changed the face of metal in the 1990-ies. Vulgar Display of Power was recognized by many critics one of the best in the discography of the group and today is considered a classic of heavy music. And songs like Fucking Hostile, Walk and Mouth for War were among the most popular songs of the creative team.
"The great pleasure was singing these songs live: when you stand on stage and sing Walk, Mouth for War Fucking Hostile...and it's so cool. Vulgar Display Of Power has become for us a powerful statement. Aggression, dynamics, blatant rudeness of these songs have connected with audiences the most dangerous way," recalled Phil.