Ost Up and Apollinarius will give a solo concert for two on 16 March in Moscow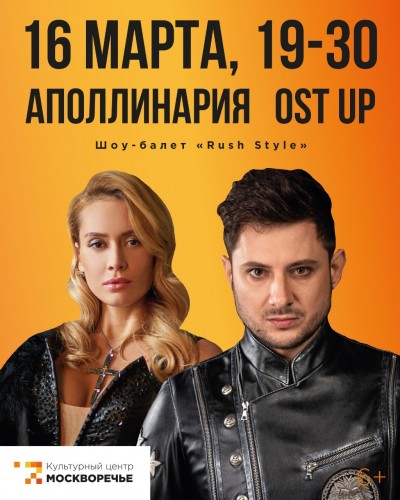 Venue:
Moscow, Moskvorechye KZ, Kashirskoe shosse 52
March 16 singer and actor Ost Up and his colleague in the creative workshop, singer and actress Apollinarius, will give a recital for two. The concert will take place in Moscow, in the concert hall "moskvoreche."
In anticipation of the concert we decided to talk with the artist and learn his plans for the near future.
Ostap, you are for some time almost disappeared from TV screens have become smaller in concerts. Until last fall, you, like, gone. What was the reason?
The fact that I was busy with a few new to me, I was in the movie. And in two paintings, in the film "Sunflowers" and "Kensei". A lot of time was spent on the filming process and did not work in parallel to make music. I have no regrets, I was wondering, because you always have to sacrifice something. Movie - very cool, feels great, interesting process. On the one hand a movie gives the opportunity to show their creativity to a greater number of people to try their acting skills, but still, I miss the stage, concerts, communication with the audience. First of all, I am a singer and I really miss you when you applaud and you see live view of your audience. In General, it does not replace.
Tell me, in a movie you sing?
My songs are in the soundtrack, some I wrote specifically for the film. But these films are not meant singing directly into the frame. In the future everything is possible, not exclude it.
Now your plans are aimed more at the movies or on music?
Of course, the music. We now have a small tour of the city with the premieres of the film and during the tour I'm on. We have visited large and small cities in the country, I must say that all of us take the heat. It's cool! Now I was offered several roles, but I decided to take a break from playing music. Currently working on a new album and on a new concert program together with singer Apollinaria.
How did you meet Apollinaris, on the set or in the music industry?
With Apollinaria we know for a long time. As the saying goes, we are tied to music. But decided to do a joint concert, much later, only after filming. The program turns out to be very cool. great dance performances, special effects. As part of the tour we already had a few concerts and have passed with flying colours. In Moscow on March 16 will be our first joint concert. By the autumn we plan big solo concerts in Moscow, St. Petersburg, Sochi. Upon completion of this tour, plan to release an album, shoot a video and then resume filming in the movie.
What would you like to wish to our readers?
First, you are all invited to the emergency meeting at our concert which will be held on March 16 in the hall moskvoreche. I promise you a sea of positive emotions, fiery dances, good music and bright show!
And, secondly, I want to wish all of you health and more positive emotions!
Photo: PTS Alexander Yakovlev