Online concert IMPERIAL AGE 25 APR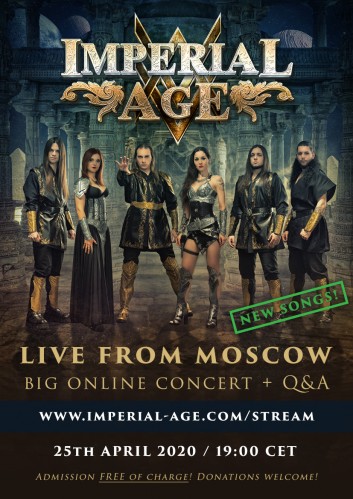 Venue:
http://www.imperial-age.com/stream
Russian symphonic metal band IMPERIAL AGE has announced its first two-hour live show broadcast which will be transmitted from the heart of Russia – Moscow around the world!
Powerful guitar riffs, wonderful voice and beautiful ladies in historical costumes will attract the attention of the audience on April 25 at 20.00 Moscow time.
Absolutely everyone has the opportunity to join the stream and become part of the exclusive metal events while enjoying the spectacular show of the Russian symphonic metallers, who won attention in Europe and America.
IMPERIAL AGE for the first time will present their new songs from the upcoming album and perform the audience favorite hits. Between songs the band members will answer the most intriguing questions from the online chat, will share his thoughts on the current situation in the world and talk about their plans for the future.
To watch the broadcast, staying at home, completely FREE of charge on the website of the IMPERIAL AGE: http://www.imperial-age.com/stream
Viewers will also be able to make your donations before, during and after the show to support the band.
Stream will be in English.