The birthday of Igor Rasteryaeva Holiday online concert platform Lookport 10 Aug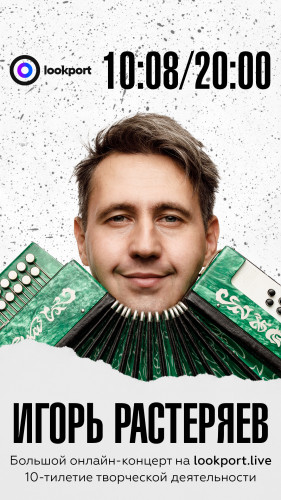 Venue:
https://lookport.live/live/igorrasteryaev
Igor Rasteryaev will celebrate the 10th anniversary of creative activity! A big concert will take place August 10 on the platform Lookport! Viewers are waiting for holiday surprises and gifts!
10 Aug 2010, Igor Rasteryaev rushed headlong into the online space with their now legendary, the video for "Combiners" to the next day Wake up famous. Posted by Dmitry "Goblin" Puchkov on the website oper.ru video Russian accordion immediately won the sympathy of the audience and has become a real hallmark of the artist. In the rich creative piggy Bank Igor six full-length albums, two books, a play, dozens of folk hits, hundreds of concerts and thousands of loyal listeners across the country.
Coincidentally, on this day Igor Rasteryaeva turns 40. According to an unwritten tradition, that date to celebrate is not accepted, and the quarantine mode imposes additional restrictions. It was therefore decided to gather all the listeners and viewers online platform Lookport, to celebrate the 10th anniversary of the creative journey Igor Resterai!
Upcoming online concert will be not just the premiere of the program "10 years on the combine", which in the future will launch a large-scale touring tour.The speech is planned in an interactive format, so everyone will be able to ask questions live, which will lead Artem Anchukov was the classmate of Igor, that did it 10 years ago at his first concert. And the most active and creative viewers are waiting for gifts! In the framework of this event will be summed up and announced the winners of the national flash mob #10летнакомбайне, which right now is on the Internet!
Tune in on August 10 to the platform Lookport to in good company together with Igor Rasteryaeva to celebrate the 10th anniversary of the song "Combiners"!
Beginning at 20:00