Summer series Live & Drive will close with a gala concert of "Russian Radio"!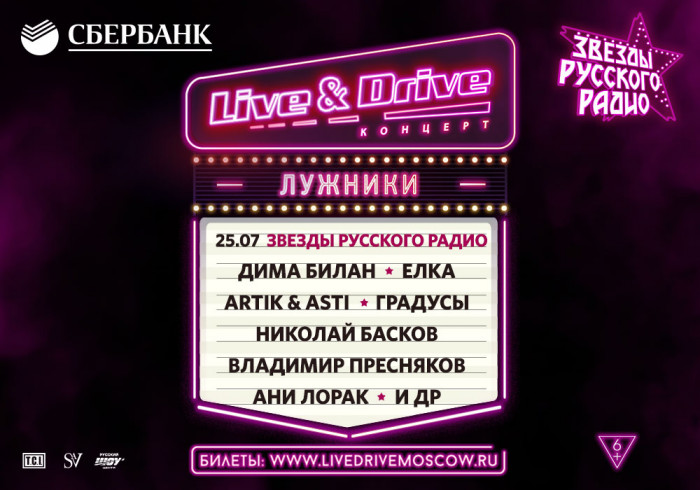 This year one of the most popular Russian radio station celebrates 25th anniversary – listen to it in capitals, and in the small towns of the huge country.
"Stars of Russian Radio" — the brand that is familiar to all fans of Russian music. This is the most favorite and popular Russian artists, whose songs daily delight millions of listeners of "Russian Radio". "Stars of Russian Radio" — is always bright show, most modern stage effects, all your favorite hits and new songs. And definitely the best finale for a series of Live & Drive in the "Luzhniki" would be difficult to imagine!
25th July Live & Drive by Vladimir Presnyakov, Elka, Dima Bilan, Ani Lorak, Nikolai Baskov, Irina Dubtsova, Degrees, Masha Weber, Artik & Asti, Earthlings, Marie Krimpery, Ringing, and more!
Start your engines and come join us! Tickets and details: https://livedrivemoscow.ru (6+)
The General sponsor is Live & Drive in favor of Sberbank. Burst into summer with Live & Drive and Sberbank!