Mitya Fomin Dima Permyakov: the Final party of the summer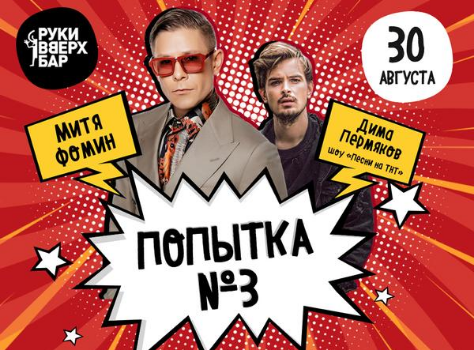 Venue:
Tverskaya 22, Hands up bar, Moscow
Energizer Russian scene, Mitya Fomin and participant of the show "Songs on TNT" Dima Permyakov, August 30, will perform in the iconic "Hands Up bar" in Moscow at the final party of the summer 2020.
Different, at first glance, artists on one stage will bring together the musical material. Dima Permyakov it together with the sound producer Anton Morewin wrote to Fomin mini-album "April" in the genre of soul-electro-pop, and are now working on the next release.
Listeners and critics praised the fresh sound of "April," and these are the songs the artist will perform on the stage "Hands Up bar" as well as favorite hits. In turn, Dima Permyakov will present the debut album "Stupid good".
It was a summer of contrasts: from isolation to travel around the country, from access control to delight in the open verandas, and other... Musicians will remember the brightest moments and hold, finally, a concert that is due to restrictions on the event was postponed two times. That is why the meeting is called "Attempt # 3".
Even more new songs, more musical experiments, even brighter summer mood on stage "Hands Up bar" is waiting for you on August 30. All in a stylish interior, the cocktails and meals and pleasant company, and the total atmosphere of romance guarantee musicians.