29 Aug Dolphin will perform on the roof Place in Saint-Petersburg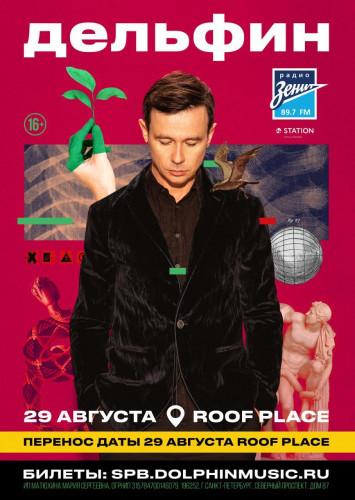 In the fall of 2019 Dolphin introduced their new album, "KRAI," which complements the previous release with a completely different side:
"Album "442" is the look of a man not long opened the window, but suddenly it looked, Agranovskaya around and a horrified what is happening there. I tried the window shut, trying to seal all the cracks, but nothing came of it. This draft has penetrated into some of my personal experiences became the backdrop for a much more interesting experiences of my life. About this and says the album "the EDGE", is an attempt to understand what is happening, to speak and thus to get rid of it".
At the beginning of winter in St. Petersburg hosted the concert premiere of this striking plate. Unusual for a group of sedentary hall format allowed the audience to fully feel the new material.
Following the Dolphin performance in the Northern capital will present a slightly different refraction new songs, because the club atmosphere declarative stage involves less feed, and therefore a different energy based on the synergy between the viewer and the artist.
Along with the new songs, the music canvas concert will be the most current songs from previous records.
This symbiosis of contrasting forms of creative Dolphin will create a unique pattern, to witness which we invite you on August 13 at the roof Place.