Art-rock group Yauza presents the conceptual program "Butterflies and Tanks" in the club "Forte"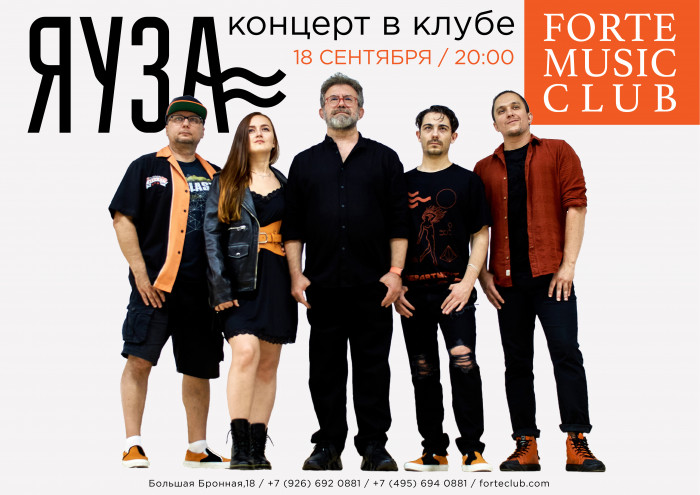 Venue:
m. Pushkinskaya, st. Bolshaya Bronnaya, 18, Forte club
18 сентября в клубе «Форте» впервые выступит московская арт-рок группа «Яуза» - с концептуальной программой «Бабочки и танки», представляющей материал их одноименного дебютного альбома. С точки зрения критиков, «музыканты ловко жонглируют многими стилями и по-хорошему старомодны». В их репертуаре органично уживаются блюз-рок, барокко-поп, фанк, рок-баллады, балканский джаз, регтайм, самба, григорианский хорал, рок-романсы, а также узнаваемые реминисценции из академической музыки и фрагменты рок-классики.
«Мы играем рок-музыку XXI века, которая, однако, опирается на всю мировую культуру от Альбинони до Рамина Джавади – отталкиваемся от них и идем вперед!» - комментирует стиль «Яузы» композитор и вокалист Арсен Ревазов.
Объединяют весь этот полет жанров тексты на стихотворения Михаила Генделева, которого современники называют «израильским Бродским». Рок-секстет Арсена Ревазова исполнит композиции на знаковые произведения Генделева: «Салют», «Элегия», «Ночные маневры», «Палестина», «Куплеты памяти Анны Карениной», «Вальс крушения» и другие.
В составе «Яузы» на сольном концерте в «Форте» выступят Мария Сулимова – клавишные, Евгений Пастухов – лидер-гитара, Олег Сулимов – бас-гитара, Александр Смирнов – ударные, Илья Олейников – баян и Арсен Ревазов – вокал, реплики, ритм-гитара и дирижерская палочка.