Sergey Mazaev and "Moral Code" - "All Hits and New Songs" in 1930 Moscow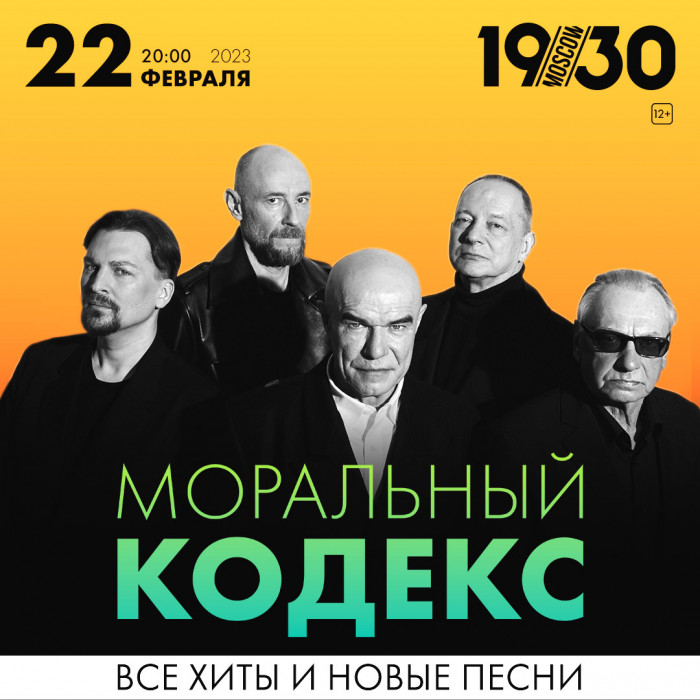 Возрастное ограничение:
12+
Notice
: Undefined index: wrap_width in
/myarea/web/mesmika/public_html/templates/boxed/content/default_item.tpl.php
on line
49
>
Start date:
Venue:
Moscow, Party lane 1, building 6 (metro station Serpukhovskaya, Paveletskaya)
ILDAR Bakeev Entertainment представляет.
Карабас-Барабас уже опрокинул бас, Дуремар убежал в кусты, а Сергей Мазаев готовится выступить на площадке 1930 Moscow 22 февраля грядущего года. Ставшая популярной в конце девяностых группа сыграет свой собственный, альтернативный рок на сцене московского клуба. Программа «Все хиты и новые песни» говорит названием сама за себя.
Группа «Моральный кодекс» отметилась на всех важных реперных точках эпохи: участвовала в «Утренней почте», отмечала победу над путчем у Горбатого моста песней «До свидания, мама!», выступала на легендарных фестивалях «Максидром» и «Нашествие».
Любая песня «Морального кодекса» становится лозунгом. Поэтому пока Сергей Мазаев выбирает город – в этот раз Москву. Город выбирает его. На этот раз встреча – 22 февраля.