The legendary band Accept's first appearance in Siberia at the festival "Heroes of world rock"!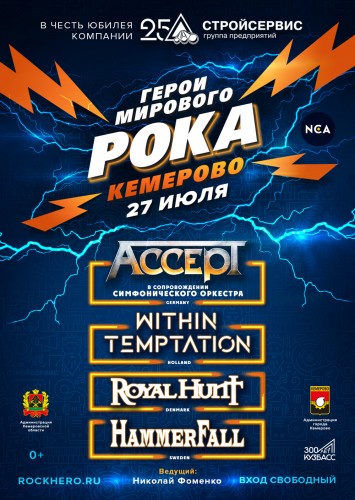 It is time which all so eagerly waiting for announced the final participant of the festival "Heroes of world rock" is a legendary band Accept. The band will perform on July 27, 2019 in Kemerovo at a rock festival in honor of the 25th anniversary of the company ZAO "Stroyservis" — General partner of the project.
Accept — one of the most successful German rock bands of all time, have been influential in the development of modern metal and laid the foundations of the style called "Teutonic rock".
Since the founding of the group, it took almost 50 years, and during that time the team has repeatedly confirmed its iconic status, the uniqueness and incredible power. Albums by Accept entered the gold collection the world of rock music, becoming the basis for a dozen young teams. As rightly noted by one music critic — if your shelf is still no album Breaker, you have no idea what is heavy metal. The group is at the origin of this musical genre, and it is an indisputable fact.
Currently Accept is recognized as "patriarchs" of hard rock. Their releases regularly reach European chat rooms, they serve as headliners at major world festivals and the leader of the group — wolf Hoffmann — consistently included in the rankings of the greatest guitarists in rock history.
In 2017, the year Accept really surprised all fans of heavy music, presenting on the legendary Wacken Open Air festival, a unique joint program with the Symphony orchestra. Emphasized brutal, aggressive and harsh music combined with the gentle "orchestral" tints made such a strong impression on fans of hard rock that this performance was recognized as one of the brightest in the entire history of the festival! 27 Jul Kuzbass will see a spectacular musical performance of the group Acceptв accompanied by a Symphony orchestra. Kemerovo included in the top cities, which will be presented this unique program along with the Moscow and St. Petersburg!
See you at the international festival "world Heroes of rock", where you will sing their best songs Accept, within temptation, HammerFall RoyalHuntи, and the leading of the festival is Nikolai Fomenko. No one can resist the "Heroes of world rock"!
The festival will take place with support of administration of the Kemerovo region and the city of Kemerovo.
Follow the news in the group of the festival "Heroes of world rock" https://vk.com/rockherofest, https://instagram.com/rockherofest and on the website http://rockhero.ru/. Participate in contests and sweepstakes. You are waiting for great prizes and much more interesting.
The festival venue will be announced later. Admission is free.