Night discounts! Just one night, from April 30 to may 1, tickets for "Dique mint" will be cheaper!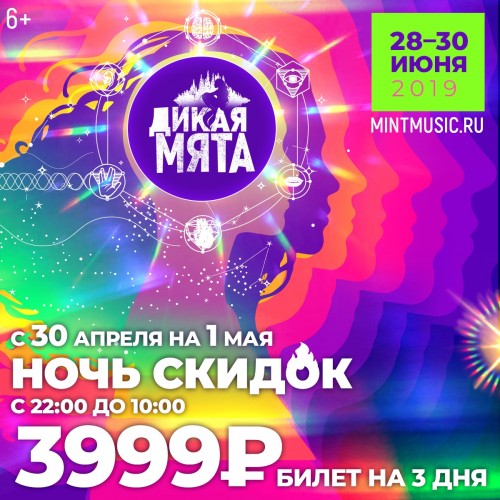 Photo source:
http://mintmusic.ru/
Attention!
Coming traditional night discounts!
As always, Walpurgis night, everyone has the opportunity to buy a ticket to the "Wild mint" with the legendary discount.
This year the night of discounts will be held from April 30 to may 1: program alarm clocks!
The price of an adult ticket for all three days of the festival will be only 3999 rubles!
This only happens once a year. Most importantly, don't oversleep!
As a reminder, this year the festival will feature: "mummy Troll", "Aquarium", Basta, Primal Scream, Dolphin Faithless DJ Set, Dubioza Kolektiv, The Hatters, Alai Oli, The Great Machine, Narimono Theophanes, "Tarakany!", James Leg, Zventa Sventana, "kachevniki", Ivan & The Parazol, Shortparis, EUT, "Komsomolsk", OLIGARKH, The Blind Suns, DaKooka, "Bricks", Lola Marsh, Sirotkin, "Marlins", Caleb Hawley, Erica Lundman, Radioslam, Vurro, "Kasutama", Messer Chups, cut'e'n Bass, Anna Together Junkyard Storytellaz, "Sharpening", and Vice Versa, "Nagual", "Notebaert", "OWL", "Tintal", KOSMONAVTY, Parks, Squares and Alleys, and others.
Official website of the festival: http://mintmusic.ru/
Where: aleksinskiy R-n, Bukireva (140 km from Moscow)
When: from 28 to 30 June 2019