Garik Sukachyov will celebrate its 60th anniversary big tour "GO!", starting on "INVASION" 2019!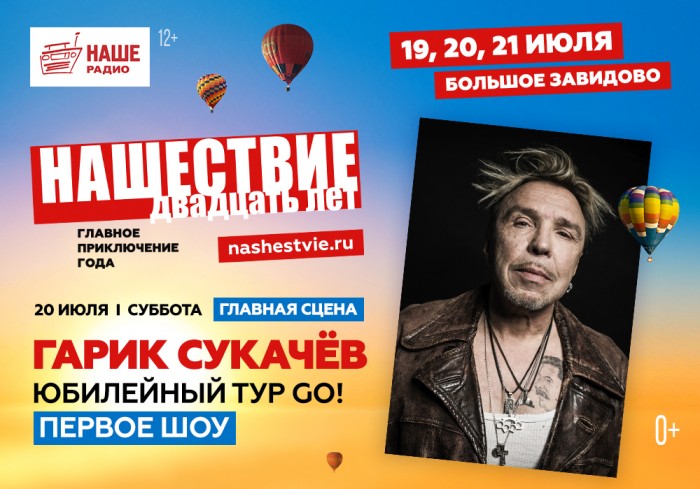 Photo source:
Press service
Garik Sukachyov will celebrate its 60th anniversary big tour "GO!", starting on "INVASION" 2019!
The musician, Director and actor Garik Sukachev , will celebrate its 60th anniversary large anniversary tour "GO!", which will start directly the Main scene "INVASIONS" 2019. A Grand show will take place on 20 July at 23.00 and will be the main event of the Saturday of the festival program.
In an interview with "Our Radio" Garik Sukachev said that on the occasion of the upcoming birthday made for fans of big show, which involved a large creative team: "the Tour "GO!" begins to "INVASION". The word "GO!" is similar to the figure 60. If to talk about the set design, all of the show – that would be incredible! There are a huge number of talented people - artists, computer graphics specialists. I invited art Director Aleksandra Belkova, who did the show "59:59". I hope to "INVASION", the audience will enjoy".
Unique design, sound quality, frenetic energy of Gary and his team the freedom and anarchy on stage, rich emotional track listing – this and more awaits guests of the festival "INVASION" 2019 at Saturday's performance of the famous Moscow punk and rock-n-roll a must see with your own eyes.
All details about the festival "INVASION" 2019 - on the website nashestvie.ru in the air, "Nashe Radio" and social networks of the radio station.
Involved: DDT, Mumiy Troll, Bi-2, Aquarium, Garik Sukachev, Alisa, Splin, Vyacheslav Butusov, picnic, Night Snipers, Chizh & Co, Bravo, Vadim Samoilov, the Pilot, naive, Gorshenev, Surganova and orchestra, Gleb Samoilov & The MATRIXX with a Symphony orchestra, Dolphin Earring, Lumen, Louna, 25/17, Kalinov most, The HATTERS, in an Accident, Sergey Bobunets, Alexander F. Sklyar and "VA-Bank", Olga Kormuhina and Alexei Belov, Animal Jazz, Narimono Theophanes, Underwood, Nike Borzov, Anacondaz, Tequilahazzz, Murakami, F. P. G, Plan University, Northern Fleet, MORDOR, team contract, Epidemic, Timeout, Bricks, SLOT, МЭD DОГ, Operation Clay, Gromyko, Nerves, Goodtimes, Troll Gnet El, [AMATORY], Jane Air, angel of Heaven, JACK ACTION, about! the Mongolian Shuudan, ##### (5 DIEZ), Fashion, Dергать!, Casual, Gran-Kurazh, Port (812), LASCALA, mamulki bend, Pneumocolon, STIGMATA, 7000$, 7РАСА, I. F. K., Catharsis, Voice Omeriki, Grizzly Knows No Remorse, Clockwork Times, Boating, Fantasy, Gosha Kutsenko and the band of GK, Alexander Ustyugov and group EKIBASTUZ? Black Tuesday, PRAVADA, ORIGAMI, Cruise, LKVR, Arkona, CASPCOM, FUNERAL SERVICES, Bengali Scum, disagreement, kitty and many others.