Aired on Pyatnitskaya: open Studio Our Radio bar Concert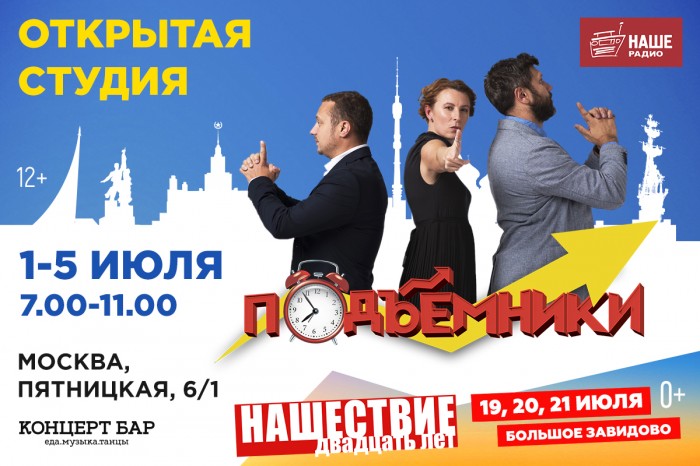 Photo source:
Press service
From 1 to 5 July the morning show "Lifts" on Our Radio moves to the bar "Concert". Leading Alexander Bon, Tanya Borisova and Igor Pankov will continue the season of wonderful, interesting and informative guest ethers with 7 to 11 am in the whole of Russia of open studios on Pyatnitskaya street 6/1.
Two weeks before the "INVASION" program "Lifts" will be intense. To help them set up Our listeners for the positive in the morning will be Alexey Kortnev ("Accident"), Diana Arbenina ("Night snipers"), Sergei Galanin ("Earring") and other musicians.
But that's not all news. Guests "Concert bar", arrived to meet your favorite leading for a pleasant surprise: "Lifts" will give all the brand stickers on a car "the INVASION" is 2019! And, of course, OUR presenters will be able after the broadcast to take pictures with everyone and sign autographs. ADMISSION IS FREE.
On "INVASION" go: DDT, Mumiy Troll, Bi-2, Aquarium, Garik Sukachev, Alisa, Splin, Vyacheslav Butusov, picnic, Night Snipers, Chizh & Co, Bravo, Vadim Samoilov, the Pilot, naive, Gorshenev, Surganova and orchestra, Gleb Samoilov & The MATRIXX with a Symphony orchestra, Dolphin Earring, Lumen, Louna, 25/17, Kalinov most, The HATTERS, in an Accident, Sergey Bobunets, Alexander F. Sklyar and "VA-Bank", Olga Kormuhina and Alexei Belov, Animal Jazz, Narimono Theophanes, underwood, Nike Borzov, Anacondaz, Tequilahazzz, Murakami, F. P. G, Plan University, Northern Fleet, MORDOR, team contract, Epidemic, Timeout, Bricks, SLOT, МЭD DОГ, Operation Clay, Gromyko, Nerves, Goodtimes, Troll Gnet El, [AMATORY], Jane Air, angel of Heaven, JACK ACTION, about! the Mongolian Shuudan, ##### (5 DIEZ), Fashion, Dергать!, Casual, Gran-Kurazh, Port (812), LASCALA, mamulki bend, Pneumocolon, STIGMATA, 7000$, 7РАСА, I. F. K., Catharsis, Voice Omeriki, Grizzly Knows No Remorse, Clockwork Times, Boating, Fantasy, Gosha Kutsenko and the band of GK, Alexander Ustyugov and group EKIBASTUZ? Black Tuesday, PRAVADA, ORIGAMI, Cruise, LKVR, Arkona, CASPCOM, FUNERAL SERVICES, Bengali Scum, disagreement, kitty and many others.
All details about the festival "INVASION" 2019 - on the website nashestvie.ruin the air of Our Radio and social networks of the radio station.