"NASHE Radio" invites you to exhibition of tactile sculpture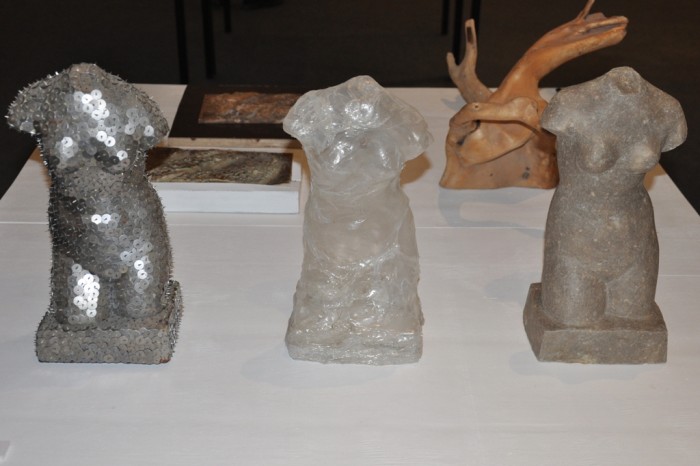 Photo source:
Press service
On Friday, June 27 with the support of "Our Radio" and Fund of Valentin Serov at the Museum "Integration" was opened the exhibition of tactile sculpture "Mashing. Chop. Cooking. Pouring".
The exhibition, created by curator Elizabeth Storm, is a 4 ways to create sculpture. Elizabeth managed to hold three tours for journalists, guests, and colleagues from the Department of social and cultural projects with limited vision.
Created by the company "Aromamedia" installation smell aromas of, transmit messages that are important in a certain situation. The exhibition is such a situation. Depending on the color of air aroma's emotions change the lightness, courage, loyalty, dynamics, alertness, danger, euphoria.
At the opening of the composer and cellist Alina Anufrienko conducted an art experiment, gathered new musicians by Kuvshinov Ilya, Maria and Alexander Glushkov Molokovo together. All researchers of sound, with a fine musical taste, are connecting the world's musical and artistic world.
Music created specifically for the exhibition should help the viewer to put together scents, shapes, tactile sensations. She is a guide who develops the viewer's intuition, allows to conduct a dialogue with the art object on the level of feelings. Melody plunges into the space that allows you to communicate without words, to understand each other with touch.
Particularly striking are the unusual forms and materials of sculpture by young artists "faces" of bread from Nastya Segal; and a bathroom, all covered with fur "in what does not deny" by Marina Incentives; "person" hovering in the air, Elena Emelyanovo; interactive exhibits from the "Illusion" that you can promote, and thus create beautiful designs from Daniel Bausheva; magic headbands from Elizabeth Storm, unmissable, to not try.
The imagination of the large-scale works of art: sculptures from the series "Russian birch" Dmitry Tugarinova, the kinetic sculpture of Vladimir Martirosov, "my Father's Hand" Artem Mukhanov, "the Inseparable connection" of Cathay Guest, picture from the series "Spiritum" Gleb Skubachevskii, "Subconscious" Diana Devitskaya Diana, the girl in full growth of man out of wood and metal "Bird" Alexander Igumnov.
The exhibition is open every day except Mondays according to the clock Museum, will last until August 28. Detailed information on the Museum website Integration tverskaya14.ru and on the Fund by Valentin Serov fondserova.ru.