"INVASION" 2019 " and " Roshydromet: great festival, great weather!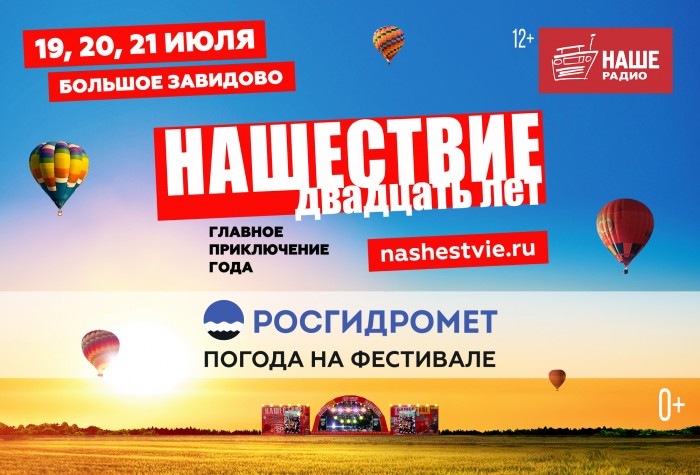 Photo source:
Press service
The main adventure of the year is just around the corner! Less than three weeks, thousands of Our going on the field in Big Zavidovo, to clearly and powerfully to celebrate the twentieth anniversary of the massive open-air country festival "INVASION" of 2019!
Like last summer, in 2019, the organizers of the most anticipated events of the season continue to take care of the comfort of the guests and inform about the required training. Most accurate weather forecast "INVASION" 2019 will represent the Federal service for Hydrometeorology and environmental monitoring ("Roshydromet").
Partners of the festival in the operational mode (every 3 hours!) will share the most accurate forecast based on data from the meteorological station in Konakovo the meteorological radar, located in Moscow. After the obtained object information is applied to the calculated mesoscale model, knowing everything about the terrain in the Big Zavidovo, the forecast will appear on the website of Roshydromet, on the official website and social networks of the festival. The most accurate data – daily, from July 17 to meteorf.ru!
All details about the festival "INVASION" 2019 - on the website nashestvie.ruin the air, "Nashe Radio" and social networks of the radio station.
Information about the festival:
"INVASION" – the largest Russian festival under the open sky, is the largest and most visited annual festival in Russia and CIS. Held since 1999. Founded by the radio station "NASHE Radio".
19, 20 and 21 July 2019 in the Big Zavidovo the Tver region "INVASION" will celebrate round date – 20 years. Over the long-run development of the festival audience were presented almost all the most significant Russian artists. "INVASION" is a multi – format music non-stop, is a place where legendary, and young performers.
2009 "the adventure of the year" found its permanent "residence" – the Big Zavidovo in the Tver region. Huge territory located in the picturesque places of the Tver region, located 10 km from the Federal highway "Moscow – Saint-Petersburg" and 3 km from the train platform "Konakovsky Moss".
"INVASION" is striving to become one of the most comfortable conditions of stay of all such events not only in Russia but also abroad. This is ensured by the creation in the field a tremendous volume of infrastructure. Every year the organizers are doing everything to make living conditions for all categories of audience became more comfortable and the entertainment program is varied and interesting.
From 2017, the tickets for the festival are inscribed, and you can only buy them on www.nashestvie.ru.