The Institute for the study of street art transforms the Almetyevsk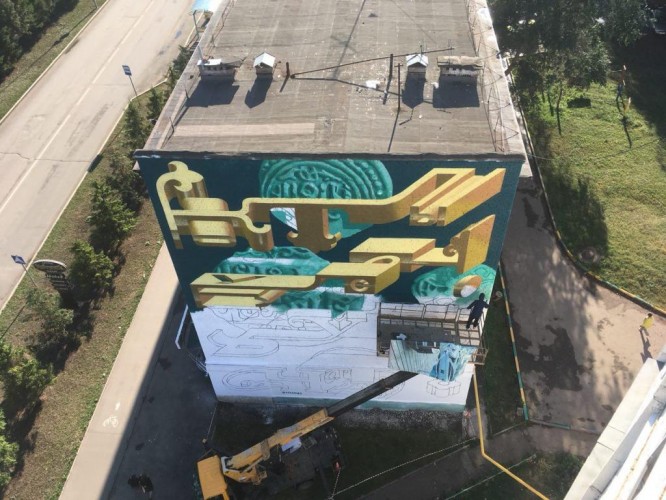 Photo source:
Press service
St. Petersburg research Institute of street art continues the public art program "Tales of the Golden apples" in Almetyevsk
The second year the Institute for the study of street art at the initiative of the company the company implements a long-term project
development of public spaces and local urban communities. In the oil capital of Tatarstan has already painted more than 20 walls, which appeared in the murals of artists from Italy, Canada, Spain, Greece, Iran, etc.
In the near future to continue the program in Almetyevsk coming artists Dulk (Spain), Hitnes ( Italy), Alfaalfa ( Uruguay), Raquel Rodrigo ( Spain), Fatum (Ukraine) and Alexander Demkin (Russia).
This year, the programme also launched a unique course of valexconsulting called "tour Guide tales". Residents who passed the competitive selection, listened to 44 hour course and regularly conduct Bicycle tours along the routes of the program.
From 22 June to 22 September, the citizens themselves will be able to participate in the transformation of their city in a series of events "my city, My street". Artists from different countries will tell and show you how to make a better urban space through the practices of street art and public art.
The first was the famous Spanish artist Raquel Rodrigo, who first came to Russia in Almetyevsk. It held for residents of the master-class by a unique technique of embroidery with colored ropes on the mesh-netting. Her works decorate walls all over the world. In their work, Raquel has combined the traditional crafts of Tatarstan and practices of street art. Together with the residents for 2 days she was embroidering a flower arrangement that decorated the facade of the house along the street Radishcheva, 43. Walking through the fields near Almetyevsk, the project team collected for the artist a bouquet of wildflowers. This bouquet has become the main source of inspiration for the artist when creating the work.
Later in August in the program "my city, My street", philosopher and researcher Alfred of Bostanov tell what they are talking about the old Tatar manuscripts. Also planned is an exhibition and a master class on calligraphy. In September, the artists together with the people will create a joint fence <Our story> and street art cartoon, and the famous Upsala-circus from St. Petersburg will arrange velomaster.
Learn all about the project and sign up for workshops and tours on a new program website, which launched http://almetpublic.art/