"OUR Radio" presented a new season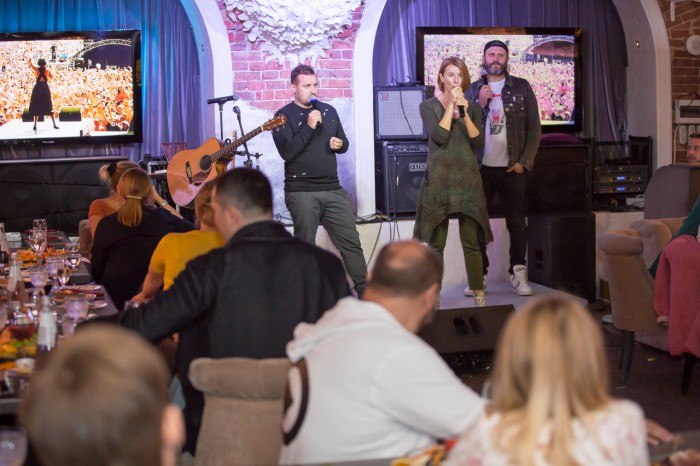 Photo source:
Press service
In September at "Our Radio" has started the new TV season. To clearly tell about the essential projects in the capital of karaoke "Jimmy Poy" presentation, which was held in the format of a press lunch. The tone of the meeting with the representatives of the media asked leading morning show "Lifts" Alexander Bon, Tanya Borisova and Igor Pankov. Acuity essential "dishes" added the band "Sharpening", performed several of his powerful hits.
OUR leaders told that the greatest response from the audience got "Curve" - a new show similar to the "Direct line with Vladimir Putin", which allows you to talk about their pressing issues. The most relevant and topical issues leading to read in the morning air.
The air of "Nashe Radio" launched a new season of the rubric "Crisis management proposal": "This is help for Our small businesses, who have no opportunity to spend money on advertising," - said Igor Pankov - We read the ads, what people do, what service, what product sells and what kind of discount can make Our audience, then get feedback and after the broadcast all joined. And so, for 2 years, we have helped a huge number of people."
In September started OUR challenge program "And our little" first hero of which became Alexander Bon. He had to change into a dress and move through the streets of the capital (see how it happened in Instagram @nashe_ru).
On "Our Radio" have started a new rubric:
weekly show "Expats" about the intricacies of the lives of foreigners living in Russia;
on Tuesdays in 06:40, 11:40, 20:40 - science-cognitive category "Inspector Gadget", leading Igor Sedov tells the news of high technologies;
share "OUR VOYAGE" - draw of tickets for a cruise on a ship along the Volga river in company with the leading station (new trip will be a trip to Uglich October 18).
topic "meet the parents" - heard touching stories from listeners about their parents, the authors of the best 5 stories will receive tickets for their parents for the weekend in a country hotel.