"NASHE Radio" announced the date of the festival "CHART DOZEN"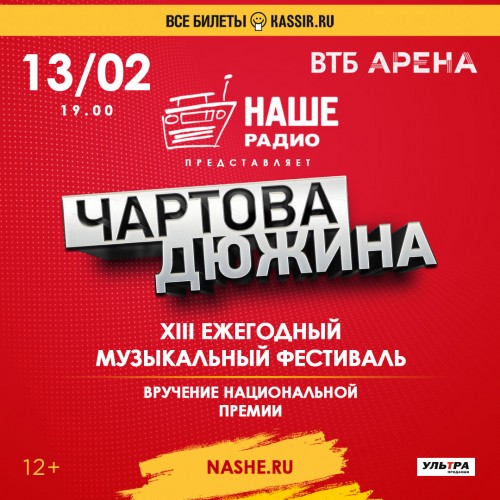 Photo source:
Press service
On Friday, November 1, became known date of the 13th annual music festival "CHART DOZEN" and the national award of"Nashe Radio" - February 13, 2020.
The legendary festival, which will take the Metropolitan area "VTB ARENA DINAMO", will summarize all the achievements of Soviet music industry over the past year and unite on the same stage as the masters of the genre, and bright young performers, who conquered peaks of the same name hit parade in 2019.
In anticipation of the "CHART DOZEN" there will be changes in the system of voting and selection of winners prizes: the winners in thirteen categories will be to choose the audience of "Our Radio" by popular vote, without the participation of the expert Council. In each category this year will be presented at the 13 bands and artists, but the real fight will be when the final will be held only three candidates of the national music award "CHART DOZEN".
Winners of the award "CHART DOZEN" in different years became: "DDT", "Alisa", "Korol I shut", "Mumiy Troll", "spleen", "Leningrad", "BI-2" and many others.
All the news about the upcoming ceremony - on site nashe.ru and social networks of the radio station "NASHE Radio"! Tickets are already on sale on the website www.kassir.ru