Konstantin Kinchev promised to "light" in the "Chart Dozen" in Moscow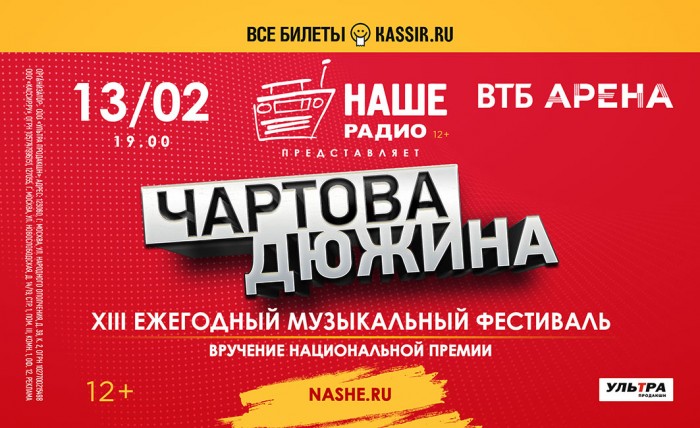 Photo source:
Press service
One of the most iconic Russian rock group "Alisa" will be the headliner of the 13th annual music festival "CHART DOZEN" and the national award of"Nashe Radio". Expected music event of this winter will be held February 13 at the modern Metropolitan area "VTB ARENA-DYNAMO".
In anticipation of the "CHART DOZEN" the leader of group "Alisa" Konstantin Kinchev commented on the upcoming performance on the stage in Moscow: "we'll try "light". We are honoured to be headlining "CHART DOZEN - 2020" and the landmark award "Nashe Radio". All "Gareth"!
As told Konstantin Kinchev, with the emergence of new musicians in the group each time it sounds differently: "Alexander Pyankov, a guitarist, and in this capacity recently. For 14 years he worked as a guitar tech in "Alice" and knows the whole program, so we can say, Sanya in the material. I am very glad that he is with us. And with the arrival of Paul Selitskogo "Alice" has reached a new stage... the band's Sound has not changed, but the sound overall became clearer. Now "Alice" is different than 15 years ago."
"Posolon" is the 21st Studio album in 2019 musicians implemented via the online platform Planeta, and once again "Alice" has confirmed the status of champion in the field of Russian crowdfunding. The owners of the album "Posolon" on CD and vinyl (15 tracks) were the only contributors during a gathering of fans. Presentation of the album "Posolon" thundered the major venues of the two capitals: 9 November in Saint-Petersburg (DS "Jubilee") and 16 November in Moscow (Adrenaline Stadium).
Now the leader of group "Alisa" is working on a solo album in the intimate format: "the album recording will be a solo job. The songs are a little not fit the format "Alice". It's a more intimate story, and, most likely, it will be electronically lined with many guest musicians. Why solo now? We finished working on the album "Posolon", so decided to do his other material, accumulated over quite a long period."
Recall that the definition of winners of "CHARTOVA the DOZEN" will be held in a new format: the winners in thirteen categories will be to choose the audience of "Our Radio" by popular vote, without the participation of the expert Council. In each category this year will be presented to 13 groups and performers, but the real fight will be when the final will be held only three candidates of the national music award "CHART DOZEN". Winners of the award "CHART DOZEN" in different years became: "DDT", "Alisa", "Korol I shut", "Mumiy Troll", "spleen", "Leningrad", "BI-2" and many others.
All the news about the upcoming ceremony - on site nashe.ru and social networks of the radio station "NASHE Radio"!
Tickets are already on sale on the website https://msk.kassir.ru/koncert/vtb-arena-tsentralnyiy-stadion-dinamo/chartova-dyujina-2020_2020-02-13