Rock is not dead! "CHART DOZEN - 2020" announced the final line-up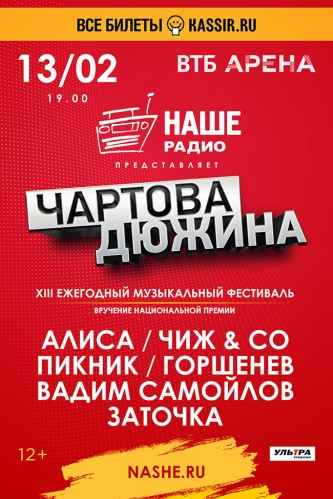 Photo source:
Press service
Thursday, December 5, the organizers of the 13th annual music festival "CHART DOZEN - 2020" and the national award of"Nashe Radio" has announced the final composition of participants of the most anticipated music events this winter. Before the festival "CHART DOZEN" remained little more than two months: on 13 February on the Metropolitan area "VTB ARENA for DYNAMO" we will find a sea of good music, carbon positive and drive!
We will remind that on Wednesday, December 4 "CHART DOZEN" announced the name of the headliner, they became the iconic team of "Alice". Was previously claimed group "picnic", "Chyzh & Co" and the project "Gorshenev".
Impressive list of participants were added:
Young rap hooligans, the Duo SHARPENING
The king of rock-Noir, leader of the band "Agatha Christie" Vadim Samoilov.
"This year we finished a huge tour dedicated to the 30th anniversary plus "Agatha Christie". Played all the hits and that's just a day, 7th December we will play in St. Petersburg, a unique, legendary concert for their own. These are authentic for genuine fans of the song "Agatha Christie". So to celebrate the anniversary of the group in full. Would be nice to start our new concert year with the festival "CHART DOZEN". Serious rock award, established among the many music awards in the Russian Federation. I wish the festival "CHART DOZEN" and the award "Naseeha Radio" prosperity, and hope not just to speak at it. On February 13 we'll sing something really popular and I hope something very new," commented Vadim Samoilov.
Recall that the definition of winners of "CHARTOVA the DOZEN" will be held in a new format: the winners in thirteen categories will be to choose the audience of "Our Radio" by popular vote, without the participation of the expert Council. In each category this year will be presented to 13 groups and performers, but the real fight will be when the final will be held only three candidates of the national music award "CHART DOZEN". Winners of the award "CHART DOZEN" in different years became: "DDT", "Alisa", "Korol I shut", "Mumiy Troll", "spleen", "Leningrad", "BI-2" and many others.
All the news about the upcoming ceremony - on site nashe.ru and social networks of the radio station "NASHE Radio"! Tickets are already on sale on the website www.kassir.ru