January 7 Lendecke will be a concert-fantasy "the Christmas forest"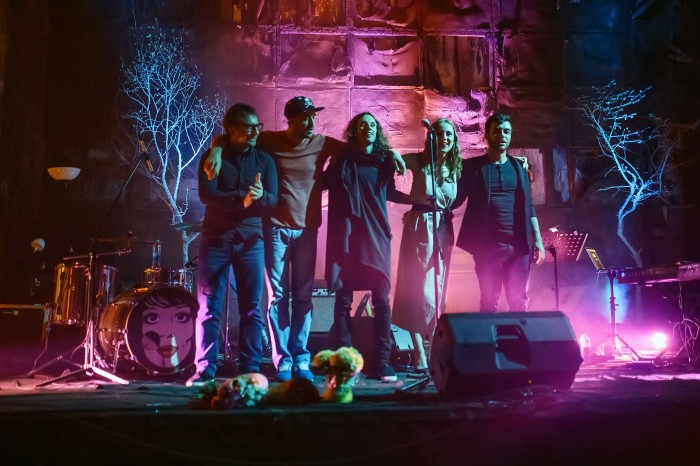 Photo source:
Maria Majazz
January 7 Lendecke will be a concert-fantasy "the Christmas forest"

Christmas in the white hall of the "Lendok" group will perform Maria Majazz and pianist Artem Panteleev with the program "Christmas forest".

"Christmas forest" concert-fantasy, which will take guests to the place of confluence of stories and music. Together with the heroes of the songs on stage there will be images of the Christmas stories, as well as specially created video installations and decorations. Songs Maria Majazz and instrumental pieces Artem Panteleev musically voiced this winter holiday story. The musicians will be joined by special guests Sophia bridge and Nadia Chechet.
"Christmas forest is a special place. Enter it and get into the story. It has snow covered trees, the branches sparkle snowflakes, sparkle the ice drifts. Sounds and enchanting music. And the world freezes in anticipation of magic under the light of the stars"–say the musicians about the atmosphere of the concert fantasy.
Maria Majazz is the Petersburg musical project under the leadership of vocalist and leader of the Maria Semenova. Their music – a fusion of styles rock, pop, jazz-fusion, ACT music, world music. Over 5 years of existence they conquered the venues and events from small to the global scale: a tour in Greece, Germany, Holland, festival Roof Music Fest, Petrojazz, Lady in Jazz, pulkovskiy Meridian Bay. His musical material was honed on solo concerts in unusual locations – Annenkirche, Greenhouse Tauride gardens, in museums and art galleries, as well as on the club grounds two capitals. In April this year Maria Majazz released a new album "Stained glass", recorded with the help of crowdfunding.

Artem Panteleev — Petersburg pianist, took part in concerts of artists: Nino Katamadze, Tina Kuznetsova, Zara, Krec and others. Party musicals of Moscow and St. Petersburg, the author of music for movies and TV shows of the First Channel and Russia's cooperation with the French and Indian authors. The author's project of Artem merges virtuoso passages that speak of classical piano school, a variety of rhythms based on jazz and rock, a variety of arrangements and improvisation in an emotionally filled piece.
Special guests of the concert — Sofia bridge – violin and voice orchestra "Strings of St. Petersburg" art Director of the project "Classic in the dark," and Nadia Chechet Russian – American crossover singer and composer from Los Angeles.
Concert fantasy "Christmas forest"
7 Dec 19:00, Open Studio "Lendok"
The number of places is limited!
TO PURCHASE TICKETS