New York city Quartet, Blue Jupiter will give a lecture at the Yeltsin Center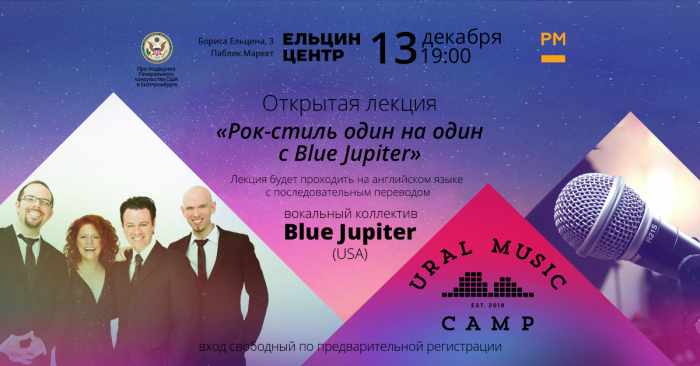 Photo source:
the press service of the Yeltsin Center
13 December at 19.00 in the Yeltsin center will host a lecture "Rock style one-on-one with "Blue Jupiter". The lecture will talk about the history of vocal styles and the theory of vocals. Musicians from America, together with the visitors of the lecture will deal, in practice, the performance of a Cappella and beatboxing, will talk about the rhythmic structure of the composition. Blue Jupiter will share their experience in the development of the musical group, discuss the different niches of self-realization vocalists. During the meeting, the Quartet from new York will also present some of his compositions.
Welcome to the lecture of musicians and all interested in the music industry.
Blue Jupiter (new York, USA) – ensemble "a Cappella" higher class representing the label of "Broadway Records". Incendiary pop and Broadway hits, jazz harmony, incredible beatboxing, and most importantly – more than anything! No tools, no DJ, no tracks of soundtrack. This Quartet from new York - the real voices and nonstop energy. In a world where so much is fake, Blue Jupiter, as they say, not of this world.
Speakers: vocal group Blue Jupiter (USA).
Diana Preisler (Diana Preisler)
Gasper Martin (Martin Gasper)
Jonathan Minkoff (Jonathan Minkoff)
Gabe Violett (Violet Gabe).
The event is organized with the support of the U.S. Consulate General in Yekaterinburg.
The lecture is held in English with consecutive translation.
December 13, Friday, Yeltsin Center, Boris Yeltsin, 3, Public Market, 19.00.
Free admission upon prior registration to: https://pclad.timepad.ru/event/1133993.
The lecture is part of the open programme Ural Music Camp - an educational side project of the Ural festival Night of Music. The organizers plan to hold a series of various lectures and round tables for all interested and immersed in the field of popular music and the music industry.
The project Ural Music Camp is implemented through a grant from Rosmolodezh