"Glamping" at "the INVASION of 2020"!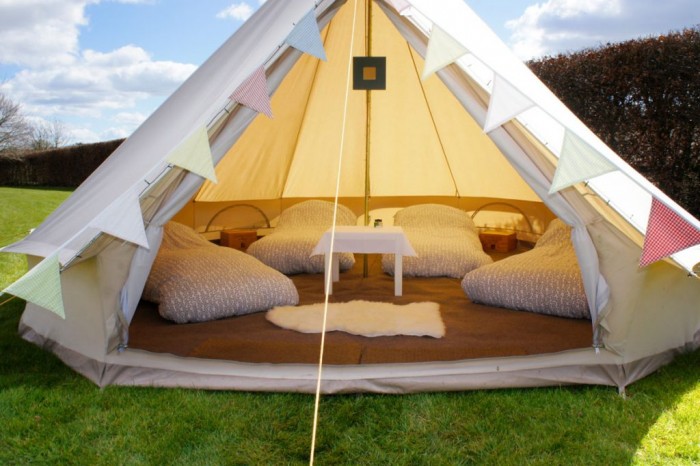 Photo source:
the press service of the festival
Almost 6 months left until the largest in Russia open-air music "the INVASION of 2020"announced by the organizers of the "carnival" the Main adventure of the year. In addition to costume variety on the field in the Big Zavidovo will appear and a new concept of comfortable accommodation – glamping.
Some people call glamping, luxury camping, some glamorous camping. In any case, this housing is designed for a truly unique and memorable stay. To book a stay in this premium tent hotel on "the INVASION of 2020" is already possible today. The price includes: beds with anatomic mattresses, floor mirror, dresser, coffee table, lighting glamping, socket 220v, set of tableware, personal hygiene products.
We remind you that the festival will traditionally have the tent cities, each of which was named in honor of the legendary rock clubs: "Leningrad", "Moscow" and Sverdlovsk". For tents and passage camping you need to buy tickets categories: "Input", "FAN" and "VIP". In addition to the entrance and camping tickets for "the INVASION of 2020", don't forget to buy tickets to one of the Parking lots.
Information about the festival:
"NASHESTVIE" is the biggest national festival under the open sky, is the largest and most visited annual festival in Russia and CIS. Held since 1999. Founded by the radio station "NASHE Radio".
"INVASION" is a multi – format music non-stop, is a place where legendary, and young performers.
2009 "the adventure of the year" found its permanent "residence" – the Big Zavidovo in the Tver region. Huge territory located in the picturesque places of the Tver region, located 10 km from the Federal highway "Moscow – Saint-Petersburg" and 3 km from the train platform "Konakovsky Moss".
"INVASION" is striving to become one of the most comfortable conditions of stay of all such events not only in Russia but also abroad. This is ensured by the creation in the field a tremendous volume of infrastructure. Every year the organizers are doing everything to make living conditions for all categories of audience became more comfortable and the entertainment program is varied and interesting.
From 2017, the tickets for the festival are inscribed, and you can only buy them on www.nashestvie.ru.
Help:
"Our radio" – one of the leading Russian radio stations, is part of the "Media Holding" audience of 3 million listeners a day. The basis of the music playlist radio stations are such legendary groups as "Agatha Christie", "DDT", "Alice", Zemfira, "spleen", "the Time Machine", "the king and the Clown", "BI-2" and many others. More than 10 years "Nashe Radio" is the organizer of the largest in the post-Soviet space of the festival "Invasion".