Andrey Matveev: "first "CHART DOZEN" is always music"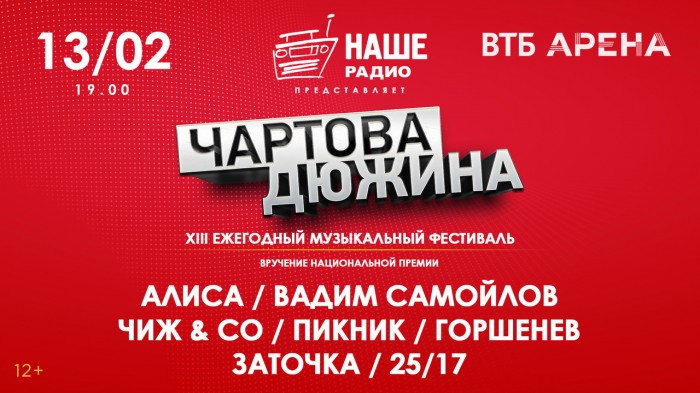 Photo source:
Press service
Three weeks before the 13th annual music festival "CHART DOZEN" and delivery of the national musical prize "Nashe Radio" the organizers said, how to change the festival in 2020. The organizing Committee said that made the decision to dramatically expand the concert portion of the award that each person received 13 February at the site of VTB ARENA is a powerful music charge.
"This year the award "CHART DOZEN" is held in the jubilee for the thirteenth time. Despite the fact that we will arrange the prize for first place is always the music. This time with big sets will perform seven bright bands. And in between presenters and celebrity guests will present awards to the winners, who were chosen by OUR listeners. Will give interesting facts on the award winners: we have a champion who in history has received eight awards - the group "DDT" and seven awards - Zemfira. Six wins are in the active Bi-2 and "King and the Clown". And right before the New year group "Leningrad" and "Night snipers" was fighting for his sixth "album", however, the second pushed forward," - said the producer of the award Andrey Matveev.
- A special and most prestigious nomination is a "Legend". It get the people who have made a significant contribution to the development of our music and Russian art in General. Here you can not win - winner select only the organizers of the award. Of course, we keep his name secret. One thing is a well - known Soviet musician and poet with a very tragic fate, and we have reason to remember about this person in 2020", - has intrigued the producer.
The headliner anticipated musical event will be the iconic team of "Alice". The line-up of the festival were the group "picnic", "Chyzh & Co", 25/17, the project "Gorshenev", the young rap hooligans, Duo SHARPENER, the king of rock-Noir, leader of the band "Agatha Christie" Vadim Samoilov.
Recall that in the voting system of the award "CHART DOZEN - 2020" has changed: the winners in 13 categories chosen by the listeners of "Nashe Radio" by popular vote, without the participation of the expert Council.
Tickets on sale on the website https://msk.kassir.ru/koncert/vtb-arena-tsentralnyiy-stadion-dinamo/chartova-dyujina-2020_2020-02-13