Radio "Ultra" is launching a live stream with the leading max Belov and Galey Imber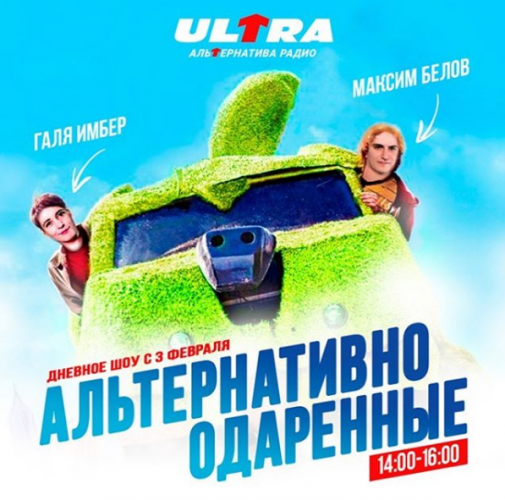 Photo source:
Press service
On 3 February, on Radio "Ultra" there comes a time live a new day show "abled". Every Monday, Wednesday and Friday from 14.00 to 16.00 presenters Max Belov and Gal Imber will create an ultra-mood fun talking about all the curious, rare and bright in alternative music.
Under the heading "This is Bublle gum" familiar songs that know your neighbor, will gain a second wind. Topic "How lion and turtle sang the song" gather duets, trios, choral chants and other successful and not so successful collaborations alternative. About new alternative music section tells us "Shaw, again?!". Will not go unnoticed birthdays of iconic musicians, is responsible for the heading "Congratulations, Ball, you dunce". A group with one hit single to hit the charts heading "Hedgehog, where have you been?!". And finally, where do you get the bands ideas of their unimaginable names listeners will learn rubric "Wow, a talking fish".
But that's not all! Bad habits musicians who record the soundtracks in films, cover songs and solo career rockers only daytime show "abled" on the Radio "Ultra".