Anatoly ice on Tuesdays in the "Functions funk" on the Radio JAZZ 89.1 FM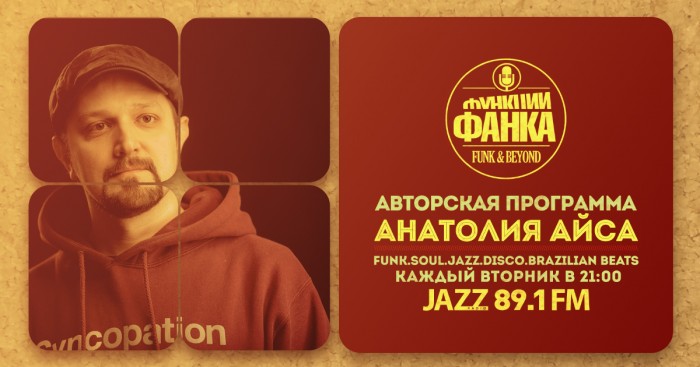 Photo source:
Press service
Tuesday, 18 February at 21: 00 broadcast Radio JAZZ 89.1 FM returns bold and bright project "Functions Funk" famous DJ, producer, promoter and radio presenter Anatoly ice.
Anatoly ice is not the first year of their own party "Functions Funk".
Funk is impossible to describe in a few words, but when we hear it, we know it's the Funk. He looks like a clunky pot with simmering musical stew, and we forget about everything from cook and move in this boiling mass. A fundamental role of all the funky music to get people moving, or at least give them a sense of movement.
"Functions Funk" is the opportunity to see the versatility of funky. It can be intense, intoxicating, or phlegmatic-aesthetically. You will hear mixed colors and rhythms of Africa, and melodious funk-disco. Incredibly soulful and sensual vocals of soul music will touch the heart of any, while the feet are moving to the beat. Lightweight and soft-funk is a combination of soft and delicate melodies with a pulsating elastic rhythm.
Every Tuesday at 21.00 Moscow broadcast Radio JAZZ 89.1 FM aired "Functions Funk", where, together with the host program by Anatoly Ice-we will go on a journey through the Golden era of funk music - the early seventies. Also will look into the sixties, when funk was in its infancy in the eighties, when funk, setting its own rules and laws, vigilantly monitored their implementation.
Details on the website www.radiojazzfm.ru and social networks stations.