Co-authorship and (self)promotion of musicians: when it is not only in the budget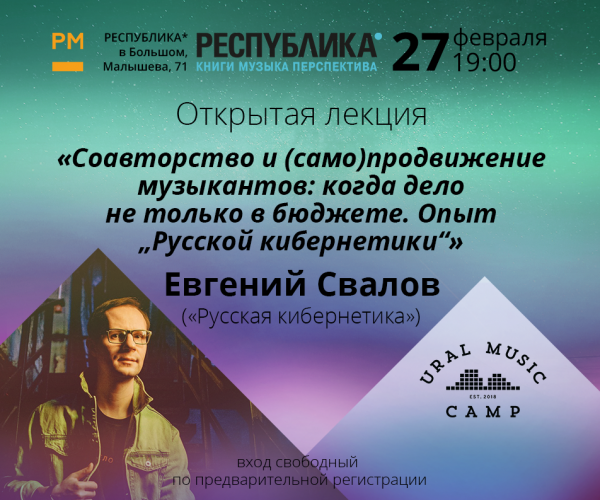 Photo source:
the press service of the festival
Every Manager says that his task is to free the artist from everything except music lessons. Promo, PR, social media, collaboration with labels and brands linapi festivals and tours, different channels of monetization, career development strategy for the years ahead — the evening of 27 February we will understand how and who to charge, while there is no team.

"The lecture will be useful for those that are looking for the most productive practices of mutual aid and co-authorship of musicians, especially those who think they have nothing to offer the world," - says Eugene.
Evgeny Svalov (4Mal) - author and presenter of the national club of the project "Russian Cybernetics", Russian electronic musician and DJ since 2006, is constantly included in the 100 best artists of the country versions of multiple ratings. Touring biography 4Mal — more than 1 200 DJ-sets. Eugene engaged in creative activities in clubs and on radio since 2001.
Through the national radio club of the project "Russian Cybernetics" is held annually from 500 to 600 electronic musicians. Most of them remove for a lot more benefit than a one-time airplay.
February 27, Thursday, 19.00 the shop REPUBLIC in a Department Store BOLSHOY Malyshev, 71. The entrance is free.
Pre-registration is required via the link: https://pclad.timepad.ru/event/1264875/.

The lecture is part of the open programme Ural Music Camp - an educational side project of the Ural festival Night of Music. The organizers plan to hold a series of various lectures and round tables for all interested and immersed in the field of popular music and the music industry. The project is being implemented through a grant from Federal Agency for youth Affairs, with the support of Department of youth policy of the Sverdlovsk region.