NIGHT OF THE FOOLS.THE PREMIERE OF THE FILM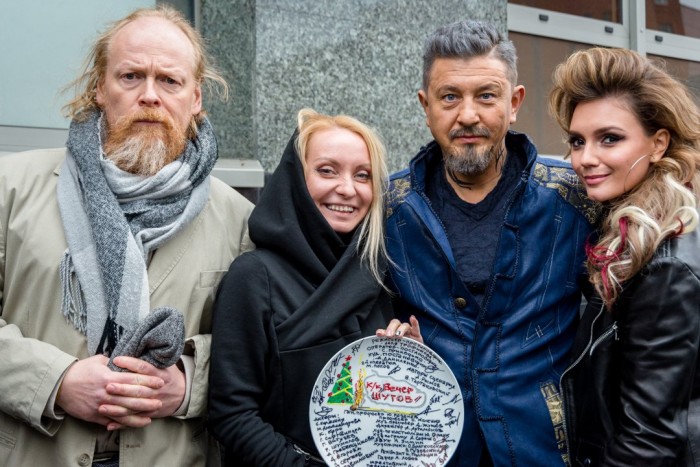 Photo source:
Press service
Genre: romantic Christmas Comedy, 6+
Slogan: dream, love, Swersey!!!
Duration - 90 min
Starring:
Yulia Aleksandrova – Stella
Sergei Kolesne Appolinary Stallions (Paul)
Kirill Kyaro – Netopyrej
Gregory siyatvinda doctor
Georgi Vityazev – Nicolacvsky
Alice Grebenshchikova – Zinaida
Roman Shumilov – Roman
Soso Pavliashvili – Givi Izrailevich.
Daria Egorova Nadia
Arseny Sergeyev – Henry
Script author: Aleksey Rymov, Vadim Tartakovsky
Producers: Yury Ryazanov, Sergey Kolesne
Director: Liliya Trofimova
Director of photography: Sergey Prikhodko
Creative producer: Gulnara Muslimova
Composer: Dmitry Zhukov, Nikita Novoseltsev
Line producer: Natalia Fomina
Director: Andrey Artamonov
Artist: Anna Soroko
Art Director: Alexander Danilenko
Artist-costume designer: Julia Frank
Costume designer: Elena Petrunina
Mounting: Timothy Kolesne

The production of the film "Up"
Interesting facts:
The film is set on December 30, the day before the new year
The shooting took place snowless winter of 2019-2020. Snow fell only once, when filming the trip Zina and Stella in the cab, making this dramatic episode special surroundings
Part of the music for the movie was purchased from the Disney company
To give the desired atmosphere and dynamics, part of the scenes edited music video Director Anton Trushnikov
In the final scene starred contestant on "the Voice" and "one to One" (the fifth season) Marie carne. There is the song "Heaven help us" performed by Soso Pavliashvili, which he co-wrote with Dmitry Zhukov, a few years ago. She "lay" and waiting in the wings, in her account participated the music school-Studio "Fasol Media School"