Promotion Cultural quarantine in St. Petersburg!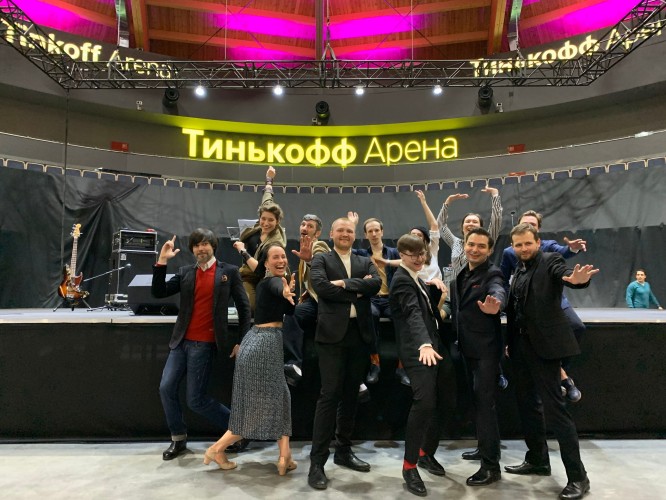 Photo source:
Press service
In St. Petersburg continues the "cultural quarantine"! In terms of strict quarantine measures, the musicians, the trendy concert venue Tinkoff arena decided to support the spirit of jazz fans.
Yesterday live on several information resources broadcast incendiary concert Stankov Jazz Band and club jazz dance Summertime Swing.
Under the unique dome "of St. Petersburg albert Hall" (an informal name KSK "Tinkoff arena" has received from an easy hand of world stars) Stankov Jazz Band played a specially prepared program, consisting of the best dance tunes of the swing era, and original works written in the spirit of music 20 years. While the leading dancers and teachers of the largest in Saint-Petersburg club jazz dance Summertime Swing dancing Lindy hop and solo jazz!
"I and all members of "Stankov Jazz Band" was happy to play a concert on the stage Tinkoff Arena. Despite the fact that the audience was not, we felt thousands of eyes and smiles on the other side of television screens. My goal is to prove to the modern listener that jazz can be fun, energetic and clear have been fulfilled at 100 percent, thanks to the high professionalism of the organizers of the event!" - shares his impression Stankov, the leader of the Jazz Band Alex Machine tools.
The concert, for obvious reasons, was held without spectators, but the total number of hits on the Internet totaled more than 50 thousand! And this despite the fact that, in principle, the capacity of the Tinkoff Arena – about 5 thousand spectators. That is, the virtual was assembled by a 10-fold sold out!
Stankov Jazz Band the famous St. Petersburg-based guitarist, band-leader and composer Alexey Easel, the author of the hit "Leningrad tango" and the Creator of Russia's first official group performing Gypsy jazz: SwingCouture. Brightness, amazing grace and the beauty of the melodies Stankov Jazz Band, side by side with the measure, humor and sense of style.
Leading broadcast became a television and radio presenter Dmitry Nechaev. Organizer at Tinkoff Arena has taken all necessary measures for viral safety.